'August: Osage County' Shows Off the Ultimate Ensemble Cast in New Trailer
We can picture a young John Wells, staring merrily out of a classroom window in grade school, dreaming of his future in show business. "Someday," he said, "I'm going to make a movie. And it's going to have Julia Roberts, and Meryl Streep, and Obi-Wan Kenobi, and a Star Trek villain, and the guy who shot Kevin Spacey." We realize that there might be some anachronisms in there, but we'll chalk it up to clairvoyance on the boy Wells' part. After all, he was right. August: Osage County is only the director's second feature film, and he has amounted an ensemble cast that would make Garry Marshall revert to the behaviors of a Tex Avery cartoon wolf.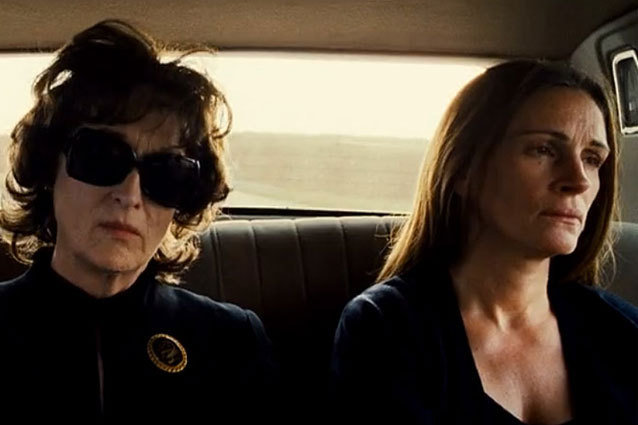 The Weinstein Company
From the looks of the new trailer, the family drama might seem like surprisingly weightless material to amount such a stellar troupe, which alongside Roberts, Streep, Ewan McGregor (the Kenobi), Benedict Cumberbatch (the Trek baddie), and Chris Cooper (the Spacey killer — American Beauty), also includes Margo Martindale, Dermot Mulroney, Juliette Lewis, Sam Shepard, and Abigail Breslin. But the play on which the film is based (playwright Tracy Letts is also handling the film adaptation's script) has earned a great deal of positive attention from rave reviews and a handful of award wins. Plus, this might turn out to be one of those simple dramas whose performances alone make it unforgettable.
Check out the trailer, and catch August: Osage County in theaters Jan. 2, 2014 (sure, the release date isn't a great sign, but not all movies that come out in January are bad). 
More:
Streep and Roberts Have a Drawl-Off in 'Osage County'
Funcomfortable Movies: An Overview
Colin Firth and Nicole Kidman in 'The Railway Man' Trailer
Follow @Michael Arbeiter
| Follow @Hollywood_com
---
From Our Partners:


40 Most Revealing See-Through Red Carpet Looks (Vh1)


15 Stars Share Secrets of their Sex Lives (Celebuzz)