'Avatar 2' Will Stick Its Actors in a Fish Tank for Underwater Performance Capture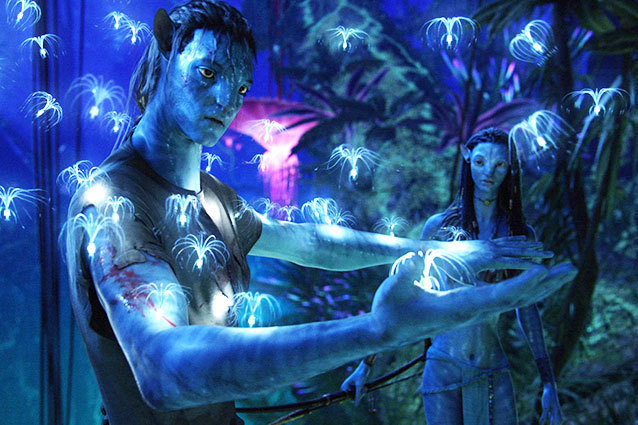 You know, not everyone loves the water as much as you do, James Cameron.
Though the filmmaker is probably in the minority in thinking that plunging down in a makeshift submersible to the deepest point in our planet's ocean might seem to you like a fun way to kick off a week, he seems to be trying to inject that same maritime passion into his friends and colleagues, starting with the Avatar cast. The franchise's producer, Jon Landau, revealed at the NAB Technology Summit on Cinema, that Avatar 2 will pioneer the feat of underwater performance capture — that is, actually sticking its actors into water-filled tanks to create lifelike scenes of swimming Na'vi.
RELATED: James Cameron to Shoot Two 'Avatar' Sequels in 2013
Landau says, "We have kept a team of digital artists on from Avatar in order to test how we can create performance capture underwater. We could simulate water [in computer graphics], but we can't simulate the actor's experience, so we are going to capture performance in a tank." This process would inevitably require stars Sam Wortington and Zoe Saldana to endure numerous takes submerged underwater, likely (knowing Cameron) in some impressive and sizeable aquatic venue.
="We are looking at [techniques including] what we did before with reflective markers," Landau continues, suggesting that the team will focus on "how we record reference photography, so that as we are going through the editorial process and the postproduction workflow, we can see what the actors did and make sure that the final performance up on screen represents that."
RELATED: How 'Avatar' Helped Give Escapism a Comeback
This isn't the only hint the producer dropped about the developing sequel, which is expected to hit theaters in 2015. Landau's profession of admiration for Peter Jackson's controversial frame rate choice for The Hobbit suggests we might be seeing Avatar 2 in 48fps or higher. "=What Peter Jackson presented, is what Peter Jackson wanted to present …= Peter Jackson made absolutely the right creative choice [in shooting 48fps] for him and should be respected for that … =Nobody should dictate to a filmmaker whether they should make films at 24, 48 or 60fps since the technology now exists and can be presented with the same cinema equipment."
With talk of superspeed frame rates and underwater shooting, Avatar 2 looks to be kicking up the series' technological exploits quite a bit. What next — actual genetically engineered dragons for Pandora transportation?
Follow Michael Arbeiter on Twitter @MichaelArbeiter
[Photo Credit: 20th Century Fox]
---
From Our Partners:


40 Most Revealing See-Through Red Carpet Looks (Vh1)


33 Child Stars: Where Are They Now? (Celebuzz)