'Avengers' Assemble! (Most of the) Cast To Present At The Oscars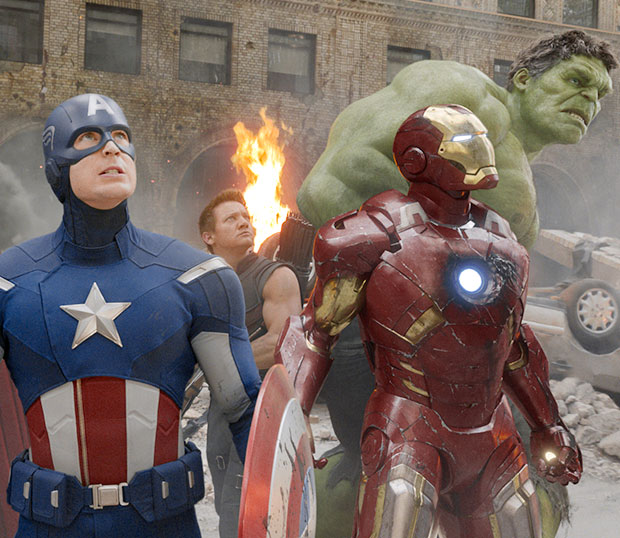 The highest grossing 2012 Best Picture nominee, to date, is Les Misérables. Tom Hooper's all-star, all-live singing adaptation of the beloved Broadway musical has brought in $340 million worldwide. Making it official, once and for all, that people really love to watch sad people singing. Just, not as much as watching superheroes kick butt. Joss Whedon's The Avengers — which is an Oscar nominee itself in the Visual Effects category — earned a staggering $1.5 billion worldwide since its May 2012 release.
RELATED: The Avengers' Passes 'Star Wars' Box Office!
While none of the cast will likely get to same in the glory on February 24 as say, Les Mis' Anne Hathaway or possibly Hugh Jackman, the Avengers will still have a chance to assemble on the Oscar stage. The Academy announced on Wednesday, via Twitter, that the Hulk, Iron Man, Captain America, Hawkeye, and Nick Fury will all be presenters at the ceremony. Okay, if we're getting all technical here: Mark Ruffalo, Robert Downey, Jr., Chris Evans, Jeremy Renner, and Samuel L. Jackson, respectively. (Their co-stars Scarlett Johansson and Chris Hemsworth were not slated as presenters and there's no word on which category they'll be presenting for.)
RELATED: 'Planet Hulk' and 'Avengers 3' Mark the Latest Marvel Rumors — What Do We Believe?!
It's unlikely that the stars will come out in full Avengers garb (Ruffalo's would provide…a challenge) you can pretty much take this one to the bank: they will be witty banter and reparte between them. Oh, will there be witty banter and reparte. Though, how amazing would it be if, instead, later into the show they just decided to extend the post-credits restaurant scene and everyone stares off in exhausted silence.
RELATED: 'Avengers' Sequel: It's On!
[Photo credit: Marvel Studios]
---
You Might Also Like:

 Adam Brody, Leighton Meester Dating?

'Smash' Crashes in Ratings: What Went Wrong

'Walking Dead' Tops Deadliest Shows: Exclusive