'Avengers" Jeremy Renner: Worst Archer Ever?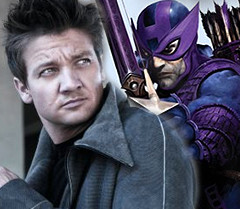 When Marvel's The Avengers hits theaters on May 2, fans will be lining up to see if the superheroes are as good as the ones in the comic book. But Wired contributor/archery coach Jim MacQuarrie has put together an exhaustive argument about the skills of Hawkeye, played by The Hurt Locker's Jeremy Renner. Apparently, he says, Jeremy could win the award for World's Worst Archer.
Jim teaches archery and after watching the film's trailer, as well as examining stills from the movie, says Jeremy "shoots like a rank amateur." Fans of the comic book will be happy to hear he doesn't think it's enough to ruin the movie, "but if they'd gotten it right, the film would be even better."
What do you think? Do you care if Hawkeye can't hold a bow and arrow correctly? Does it matter? Compare his technique to The Hunger Games' Jennifer Lawrence, who according to our interview with her archery coach "looks like a professional".
Source: Wired