'Avengers' Kills More Box Office Records!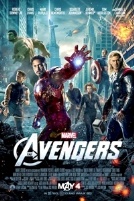 The Avengers enters its third weekend as it adds more records to its credit and continues to dominate the theatrical marketplace, hitting $400 million in record time in North America. An expected "three-peat" at the top of the box office chart this weekend will solidify its dominance as it continues to take the world by storm! This weekend it takes on three wide release newcomers including Universal's big budget action flick Battleship, Lionsgate's ensemble comedy What to Expect When You're Expecting and Paramount's Sacha Baron Cohen comedy The Dictator which earned $4.2 million on Wednesday in its debut and $2.9 million on Thursday.
Below please find a box office update courtesy of Disney for Marvel's The Avengers:
Yesterday (May 17) the film set a new domestic speed record, reaching the $400M box office threshold in 14 days. Worldwide, it has passed Toy Story 3 and Pirates of the Caribbean: Dead Man's Chest to become the #6 highest-grossing film of all time and the highest grossing Disney release ever. Internationally it is currently the #9 highest-grossing film of all time.
The Avengers estimated results for Thursday May 17:
Int'l: $10.6M
Dom: $6.2M
GLOBAL: $16.8M
The Avengers cumulative performance to date:
Int'l GBO: $668.7M
Dom GBO: $402M
GLOBAL: $1,070.7M
Additional highlights to date:
• Fastest film to reach $350M (10 days), $300M (9 days), $250M (8 days), $200M (5 days), $150M (3 days) and $100M (2 days) at domestic box office.
• Disney's fifth release to cross the billion dollar global box office threshold.
• Biggest domestic opening of all time ($207.4M).
• Biggest domestic second weekend of all time ($103M).
• Highest-grossing domestic film of 2012, passing The Hunger Games in just 12 days of release, and is now the 12th highest grossing domestic release of all-time.
• Highest domestic Saturday tally ($69.5M).
• Highest domestic Sunday tally ($57M).
• Second-highest domestic single-day tally ($80.8M).