'Avengers': More Record-Breaking in Store for Week Two

UPDATE: Early figures show that The Avengers will easily fend off competition (namely Johnny Depp's Dark Shadows) to win at the box office in its second week. In fact, the superhero blockbuster could be in for another record-breaking total. 
ORIGINAL STORY: Defying even the most optimistic predictions, Marvel's The Avengers (read the review) dominated the U.S. box office last weekend with an unprecedented $207 million opening weekend. While most summer blockbuster come out of the gates swinging only to die off in their subsequent weeks, Avengers aims to break from tradition once again, with a second nine-digit weekend gross. Hollywood.com Box Office Analyst Paul Dergarabedian predicts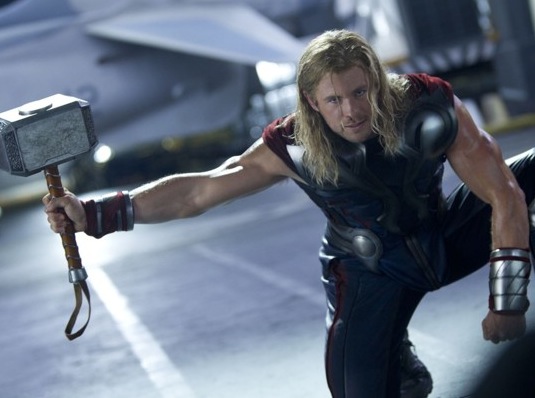 the superhero epic's sophomore outting could cross upwards of $100 million — shattering the previous record held by Avatar ($75.6 million). Taking in around $18 million per day throughout the week, The Avengers is on track to hit $400 million domestically in a ten day run, nearing $950 million worldwide by Sunday night. That could buy a lot of shawarma.
Attempting to hold its own against the Earth's mightiest heroes is the latest from cinematic dynamic duo Johnny Depp and Tim Burton: Dark Shadows. The gothic TV adaptation isn't as familiar to broad audiences at the comic characters of The Avengers, but Depp's powerful draw should be enough to vampirically hypnotize viewers to the theater, taking spot number two with $35 million.
While The Avengers is the talk of the town, it's Think Like a Man (read our review) that remains one of the year's biggest successes. Produced for around $12 million, the adaptation of Steve Harvey's popular tome should reach $80 million by the conclusion of the weekend. Take that, Hulk!
Those not investing their money in the future of Marvel franchises should help holdovers The Hunger Games (read the review), The Lucky One (read the review) and Pirates! (read the review) take home around $2 – $4 million.
What movie are you seeing this weekend?
="font-style:>
More:
The Johnny Depp Box Office Weird-O-Meter
'Avengers' Box Office: Can Anything Compete?