'Avengers' New Box Office Benchmarks!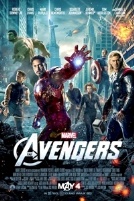 The Avengers continues its incredible run, looking at the latest box office update courtesy of Disney. The blockbuster currently stands as the #9 film of all-time globally, passing Disney's Alice in Wonderland and Star Wars Episode 1 after just 21 days of release. The superhero smash also became the highest domestic grossing film of 2012 passing The Hunger Games (now at $387.9 million domestically) in just 12 days of release and is currently 13th highest grossing domestic release of all-time.
This weekend The Avengers will try to "three-peat" at the top of the chart as it takes on three wide-release newcomers including Universal's Battleship, Lionsgate's What to Expect When You're Expecting and Paramount's The Dictator. 
The Avengers' estimated results for Tuesday May 15: 
International: $11.7 million
Domestic: $8.5 million 
GLOBAL: $20.2 million 
The Avengers cumulative performance to date 
International: $646.8 million 
Domestic: $389.5 million 
GLOBAL: $1,036.2 million