'Avengers' Smash Box Office Again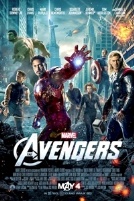 Disney and Marvel's The Avengers continued its global domination at the box office and posted the first $100 million plus second weekend in box office history earning a whopping $103.2 million (the previous biggest second weekends are Avatar ($75.6M) and The Dark Knight ($75.2M). Averaging about $15 million per-day mid-week in North America and close to $30 million per day internationally the film has redefined the very definition of blockbuster. A 50% second weekend drop gave the film $103.2 million this weekend and raised its 10 day domestic total to an unthinkably enormous $373.2 million! $1 billion at the worldwide box office is a mark it will hit today (Sunday) after just 19 days in worldwide release! 
Additional The Avengers stats courtesy of Disney International: 
MARVEL'S THE AVENGERS (Marvel): 2nd week of release 
MARVEL'S THE AVENGERS is expected to cross the $1 billion global box office threshold today on its 19th day of release. It will be the first Marvel film and fifth Disney release to reach $1B. 
DOMESTIC WKND ESTIMATE (May 11-13): $103.2M at 4,349 locations (down 50% from last weekend). Weekend theater average: $23,721
INTERNATIONAL WKND ESTIMATE (May 11-13): $95.4M 
MARVEL'S THE AVENGERS is currently in release in 54 territories representing about 95% of the international market. 
ESTIMATED DOMESTIC CUME:$373.2 MILLION 
ESTIMATED INTERNATIONAL CUME:$628.9 MILLION 
ESTIMATED GLOBAL CUME: $1,002.1 MILLION 
HIGHLIGHTS: 
• The biggest domestic opening weekend of all time ($207.4M).
• The biggest domestic second weekend of all time ($103.2M) and the first time in history a film has crossed the $100M+ mark in its 2nd weekend. 
• Global box office for Marvel's The Avengers has surpassed the global box office totals of Captain America ($364M) and Thor ($449M), Iron Man ($585M), and Iron Man 2 ($624M). 
 Domestic: 
• Fastest film to reach $200M (3 days). 
• Fastest film to reach $300M (9 days).
• Highest Saturday ($69.5M) and Sunday ($57M) totals of all time. 
• Second-biggest single-day gross of all time ($80.8M).
• Marvel's The Avengers has passed the total domestic cumes for Captain America ($177M), Thor ($181M), Iron Man 2 ($312.4M) and Iron Man ($318.4M). • Disney's year-to-date gross passed the half billion mark on Friday, moving into the #1 position in 2012 market share. 
International: 
• Marvel's The Avengers surpassed the international box office totals of Captain America ($192M), Iron Man ($266.7M), Thor ($268.3M) and Iron Man 2 ($311.5M) in just 12 days of release. 
• Biggest opening weekend of all time in Mexico, Brazil, Argentina, Ecuador, Central America,Peru, Bolivia, Hong Kong, Malaysia, New Zealand, Philippines, United Arab Emirates.
• Russia: $17.9M opening (May 3-6) represents biggest Marvel opening weekend in the country. 
Performance to date – key int'l territories 
China $52.3
Mexico $49.6M
Brazil $44.6M
Korea $41.3M
Australia $40.5M
Russia $36.0M
France $33.4M
Germany $24.1M
Italy $21.9M
Taiwan $17.4M
Spain $17.2M
Philippines $13.4M
Hong Kong $11.6M
Argentina $11.6M
India $10.4M
Other $137.9M
Total $628.9M
Exit Data: Cinema Score: A+; Rotten Tomatoes: 93%
Below, please find the combined IMAX box office gross of AVENGERS and DARK SHADOWS for this weekend, May 11, 2012. These figures represent the combined box office of both films, which shared the schedules of virtually all digital IMAX screens (Dark Shadows played on a small number of film IMAX locations). Here is the blended box office for the two films for the weekend:
Domestic: $6.16M, per screen $20,600
International: $4.16M, per screen $23,200
Global: $10.32M, per screen $21,550
The second high-profile release of the summer is Warner Bros.' Dark Shadows starring Johnny Depp and directed by long-time collaborator Tim Burton. The film is an updated riff on the cult-favorite gothic TV soap opera that ran from 1966 to 1971. Also starring Michelle Pfeiffer, this comedic fantasy departs considerably from the somber tone of the original series and unearthed over $28 million in its debut. The film had a 12% uptick on Saturday indicating solid word-of-mouth.
Sony's comedy Think Like a Man took third place with $6.3 million. The $12 million budget for this adaptation of Steve Harvey's book of the same name looks like a great investment with its fourth weekend total pushing it to $81.9 million.
Lionsgate's smash hit The Hunger Games took fourth place with $4.4 million bringing its North American cumulative to an impressive $386.9. Warner Bros.' romantic drama The Lucky One rounds out the top five with just over $4 million and a total to date of $53,736,000.
Another great weekend at the nation's theaters brings our year-to-date advantage over last year to 17.58% on revenue and over 20% on attendance. This weekend look for Universal's Battleship, Paramount's The Dictator and Lionsgate's What to Expect When You're Expecting all opening in wide release.
Weekend Box Office (Estimates)
Avengers biggest second weekend ever with $103.2M – Crosses $1B WW Today!
Movie Weekend Gross Total to Date
1. The Avengers (PG13) $103.2M $373.2M
2. Dark Shadows (PG13) $28.8M $28.8M
3. Think Like a Man (PG13) $6.3M $81.9M
4.The Hunger Games (PG13) $4.4M $386.9M
5. The Lucky One (PG13) $4.055M $53.7M