Awards 2012: Making a Case for 'Bridesmaids'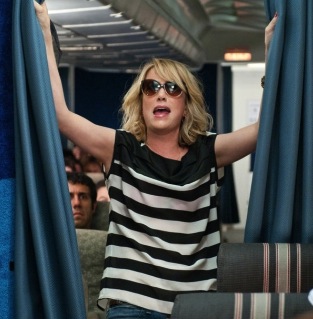 Bridesmaids has a lot going against it, awards-wise (namely Oscars-wise). Comedies are looked down upon, with Heavy Dramas – especially those in which a big-name thesp eschews glamor and/or adopts any dialect that isn't his own – being the clear-cut favorite children of Academy voters. Quick: Name the last comedy, not dramedy, to have even been nominated for Best Picture. You can't. Of course you can't (unless, that is, you were part of the production of 1997's The Full Monty).
Bridesmaids also has its "femaleness" as a disadvantage. Although the film isn't a chick flick per se, almost all of its main characters are women, and the most recent Best Picture winner with merely a somewhat estrogenic cast is 1983's Terms of Endearment. Finally, Academy Awards don't usually go to summer movies; they're not even usually in the mix, as though containing an asterisk if released during the hot months (The Hurt Locker was an anomaly in 2008, inexplicably released among the sequels and comic-book adaptations of June), hence the unofficial cinematic segregation known as Blockbuster Season (summer) and Oscars Season (winter).
But it's time for the so-called rules to change …
For starters, great comedy – not to be confused with the very, very mediocre comedy (and below that, the Adam Sandler comedy) that saturates today's multiplex and the box office – is extremely difficult to produce, possibly even (ear muffs, Academy members) more difficult than great drama. Who's to say there isn't just as much skill in conceiving of a movie that makes an audience laugh, really laugh, as there is in conceiving of a movie that makes an audience cry or reflect or ponder?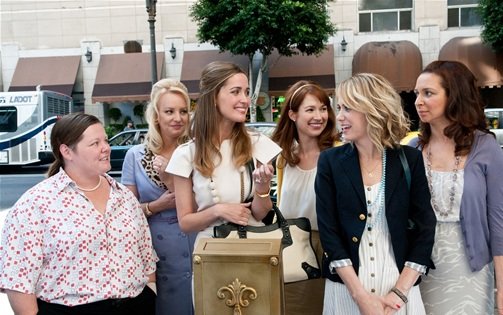 Likewise, is there not as much formidable artifice in crafting a comedic performance as there is in crafting a dramatic, or even dramedic, one? This is where Kristen Wiig comes in, because as the star, co-writer and altogether center of Bridesmaids, she is largely responsible for the year's best comedy – and one of its best non-comedies.
Wiig turns in a top-notch, ridiculously under-recognized performance that's worthy of, at the very least, a Best Actress nomination. We don't expect her to overthrow Queen Meryl in the category, but she needs to be IN the category – and pardon the blasphemy, but did Streep, as Margaret Thatcher in The Iron Lady, play up, down, happy, sad, hilarious, wry, showy, quiet and more, the way Wiig did as Annie? (Apples and oranges, yes, since Streep's role didn't call for it, but the comparison bears mentioning.) We're not suggesting Wiig's performance was superior to Streep's, but she cannot be excluded from the conversation simply because she comes devoid of expectations and a track record, unlike Streep, who was a Best Actress shoo-in even before production started on her movie, based on the subject she was to be portraying and the quality of performance to which we've grown accustomed from her. And that sums up Bridesmaids as a whole: It's damn near perfect – plus, let's not forgot its all-important blockbuster status – and it can't be excluded from the big Oscar categories simply because it is of Comedic descent. The Hollywood Foreign Press got it right (mostly). Your move, Academy…