Awards 2012: 'The Artist,' George Clooney, 'The Help,' Win Big at Critics Choice Awards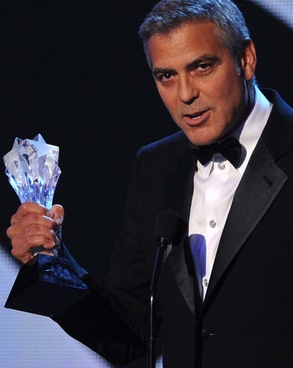 Two nights ago, the people spoke. Last night, the critics named their victors. On Sunday, an ambiguous group of foreign press will hand out their Golden Globes while intoxicating many of your favorite stars.
We're officially in the brunt of award season.
Last night's Critic Choice awards didn't surprises with too many out of nowhere wins, but it's important to note that the show isn't a sure fire predictor of the Golden Globes or the Academy Awards. Last year The Social Network took the Critics Choice's top spot. But the big winner at the Oscars? The King's Speech.
As you can tell from our "Making the Case" series, the Hollywood.com staff is quite happy with most of the winners (listed below), but what say you? Are these the best movies/performances/scripts of the year?
Best Picture: The Artist
Best Actress: Viola Davis, The Help
Best Actor: George Clooney, The Descendants
Best Supporting Actress: Octavia Spencer, The Help
Best Supporting Actor: Christopher Plummer, Beginners
Best Ensemble: The Help
Best Young Actor: Thomas Horn, Extremely Loud and Incredibly Close
Best Director: Michel Haznavicius, The Artist
Best Adapted Screenplay: Aaron Sorkin, Steve Zaillian, Moneyball
Best Original Screenplay: Woody Allen, Midnight in Paris
Best Foreign Language Film: A Separation
Best Cinematography: Janusz Kaminski, War Horse
Best Art Direction: Hugo
Best Editing: The Girl with the Dragon Tattoo
Best Costume: The Artist
Best Score: The Artist
Best Song: The Muppets, Life's a Happy Song
Best Visual Effects: Rise of the Planet of the Apes
Best Make-Up: Harry Potter and the Deathly Hallows, Pt 2
Best Sound: Harry Potter and the Deathly Hallows, Pt 2
Best Action Movie: Drive
Best Comedy: Bridesmaids
Best Animated Feature: Rango
Best Documentary: George Harrison: Living in the Material World
Honorary Award: Martin Scorsese
Joel Siegel Award: Sean Penn