'Barricade' DVD: A How to Guide on Building the Scariest Haunted House — EXCLUSIVE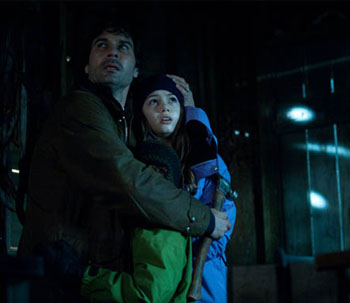 According to the official synopsis for the new horror flick Barricade, actor Eric McCormack's widowed father Terrence Shade takes his his kids on a vacation that leaves them the target of supernatural forces. C'mon Shade, what were you thinking? A cabin in the middle of the woods?! A recipe for disaster — especially when the decor screams pure evil.
Designing the perfect haunted house is no easy task, and as Production Designer Geoff Wallace explains in this exclusive behind-the-scenes clip from the Barricade DVD, every nook and cranny must be ready to provoke fear. The action in the movie could go anywhere, so Wallace and his team were meticulous about peppering their main location with period architecture, creepy artifacts, and tons of taxidermy (easily the scariest home accessory of all).
Barricade was produced by the thriving genre production company WWE Studios (yes, that WWE) and directed by Andrew Currie, the twisted mind behind 2006's Fido. The clip won't spoil anything, but it does give you a sense that everyone working on the film knows what they're doing. And what they're doing is effectively scaring you. Check out the sneak peek below.
Barricade arrives on DVD today, September 25.
Follow Matt Patches on Twitter @misterpatches
[Photo Credit: WWE Studios]
More:
'Indiana Jones' Star Karen Allen Gives Us a Reason to Love 'Kingdom of the Crystal Skull'
'Titanic' Blu-ray: Celine Dion Talks the Power of 'My Heart Will Go On' — VIDEO
'The Carol Burnett Show' on DVD: Steve Martin Welcomes Alien Invaders! — EXCLUSIVE