Doomsday, Wonder Woman, and Nightwing are Rumored for 'Batman vs. Superman'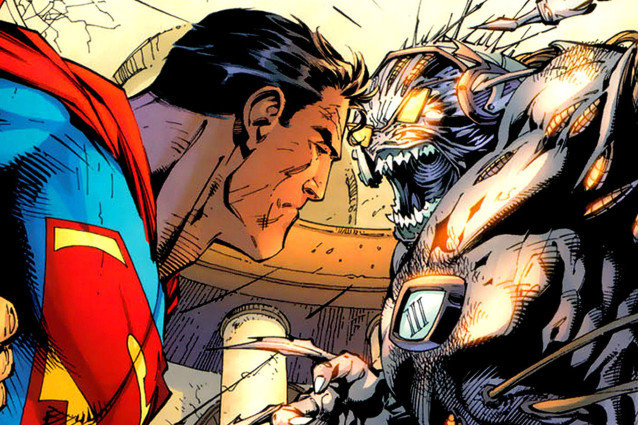 DC Comics
UPDATE: Israeli actress Gal Gadot has officially been cast as Wonder Woman in Batman Vs. Superman. Gadot has previously appeared in The Fast and The Furious series as Gisele Harrabo.
EARLIER: Zack Snyder's upcoming Batman/Superman film has yet to be adorned with an official title but that doesn't stop rumours from spilling out of every crack and crevice of the internet.
Warner Bros producer Daniel Alter, who is not directly involved in the project but apparently still privy to information surrounding the film, tweeted the most noteworthy information when he let slip that Superman villain Doomsday will appear in the film. For the uninitiated, Doomsday is a mindless killing machine who is best known for 1992 comic book story "The Death of Superman," in which he succeeds in killing the the Man of Steel. While Doomsday's inclusion in the film is interesting, especially considering his role in one of Superman's most controversial stories, there certainly needs to be a villain with more complicated motivations beyond mindless killing to fully round out the film's antagonists. Luckily, Henry Cavill has also been talking Batman/Superman. Cavill stated in an interview with Comic Book Movie that there's a good chance that Lex Luthor will be introduced in the film. Luthor and Doomsday would prove to be a formidable duo for Batman and Superman to contend with, bringing both brains and brawn to the arena.
Alter also tweeted that the characters Wonder Woman and Nightwing would be appearing in Batman/Superman as well. DC has been struggling for years to get Wonder Woman her own film, and has even entertained the idea of creating a new Wonder Woman TV show in the past. Wonder Woman's inclusion in the film would mark the costumed heroine's first live-action adventure since the 1970s television series featuring Lynda Carter in the role as the Themyscirian princess. This seems to be the opposite tactic of rival comics publisher Marvel, a company that prefers to parcel out each of its heroes in their own standalone movie before bringing them together for a big superhero teamup, and this tactic does raise some interesting questions about Warner Bros' confidence in the character. Perhaps Warner Bros wants to test the waters and ease into the idea of a Wonder Woman standalone by giving the character a supporting role in Batman/Superman first. It seems like the studio isn't convinced that a big-screen female superhero movie will work just yet. Regardless, all of this gives us a feeling that Batman/Superman might run the risk of being overstuffed with too many superheroes without the added benefit leaving introductions to individual movies. Hopefully, the film will be able to balance all of its superpowered elements.