'Battleship' Trailer Sets Up for Eventual Crossover with 'Transformers'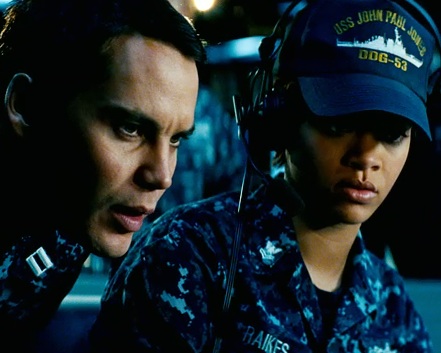 The first trailer for Battleship reminded me of the Transformers series. The new trailer for Battleship includes a title card in the beginning that actually says (note lack of punctuation) "FROM HASBRO THE COMPANY THAT BROUGHT YOU TRANSFORMERS."
Hey, at least they're owning it!
While I'm not a fan of the oversaturated cinematography or action that purposefully abandons all sense of geography that Bay has trademarked in his movies and is replicated in the new movie from Peter Berg, I also won't knock anyone who enjoys it. But if Revenge of the Fallen and Dark of the Moon weren't your cup of tea, I don't know if Battleship is going to do anything for you.
Unlike the first spot that set up a bit of the backstory, the new trailer is all about action, with most of the actors, including Taylor Kitsch, Alexander Skarsgard, Brooklyn Decker and Riahnna, standing in awe of the destruction surrounding them. The actual biped aliens briefly show up in Halo-esque armor to beat the living crap out of a few extras.
I'm crossing my fingers that the obvious nods to the Transformers franchise are either A. A marketing ploy, with plenty of great material underneath that will differentiate Battleship or B. Meant to connect the films, paving the way for a down-the-line epic crossover movie! A guy can dream.
Watch the trailer for Battleship on Apple, before it hits theaters May 18, 2012 and delivers one of the greatest shots of Alexander Skarsgard ever committed to film: