'Beautiful Creatures' Moves to Valentine's Day: Perfect Date Movie or a Deal Breaker?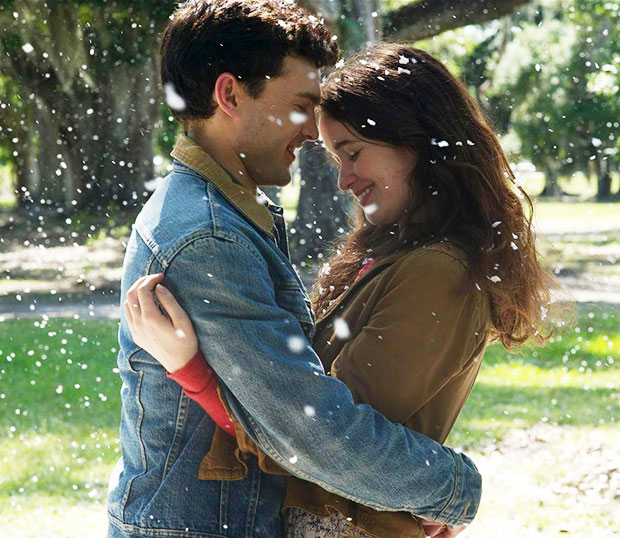 Any trip to your local drug store will provide a heart-y (get it?!) reminder that Valentine's Day is the Next Big Holiday. Never mind that the universally dreaded holiday is still over a month away — you'll be inundated with candies, teddy bears, and flowers right up until February 14. But don't let the panic of where to take your sweetheart set in just yet. In fact, Hollywood might be taking care of that for you.
It's been announced that the hotly anticipated adaptation of the supernatural YA novel Beautiful Creatures has been bumped back a day from its original release date of Feb. 13 to the fateful Feb. 14.
The film, which stars Emmy Rossum, Emma Thompson, Viola Davis, and relative newcomers Alice Englert and Alden Ehrenriech (who play the star-crossed pair at the center of the love story), will draw in the fans of the saga, no matter what their relationship status come Valentine's Day 2013.
While guys will, undoubtedly, earn some points if they choose this movie of their own volition (the supernatural elements and action sequences should make it an easier pill to swallow than, say, other V-Day releases like Safe Haven) this is more likely to be a group event moviegoing experience like Twilight.
So what should you see, and who should you take, to the movies on Feb. 14 now that Beautiful Creatures has entered the mix? Grab your box of Smartie hearts and find out:
Beautiful Creatures: First dates, newer relationships, groups of platonic friends. This movie has a little something for everyone: action, romance, mystery, special effects, Jeremy Irons.
Whether you're going in as a fan of  Kami Garcia and Margaret Stohl's book or just desperate to hold hands with someone in a movie theater on Valentine's Day, the PG-13 flick should work to everyone's benefit.
Safe Haven: Established couples. Nicholas Sparks sets the bar way too high about acceptable relationship behavior (remember what Ryan Gosling did to men everywhere post-Notebook?), so this latest saccharine romance will create unreasonable expectations for new love.
Plus, your time-tested romantic partner can ogle the likes of Josh Duhamel and Julianne Hough with less guilt than someone who still only has eyes for you.
A Good Day to Die Hard: Especially awesome, established couples, or good-natured singletons who really just want to watch s**t blow up on Valentine's Day.
Escape From Planet Earth: Your kids, because you couldn't get a babysitter to see Safe Haven or A Good Day To Die Hard.
Which movie will you take your love (or your equally lovely self) to on Valentine's Day?
[Photo credit: Warner Bros.]
More:
Supernatural Love Story 'Beautiful Creatures' Looks Positively Enchanting — TRAILER
Emmy Rossum in 'Beautiful Creatures': Part Effie Trinket, Part Siren, & Three Parts Sexpot
'Beautiful Creatures': Just in Time to Feed Your 'Twilight' Thirst