Beautiful People in Beautiful Places: European Tour on Film

It's been a long-standing tradition in film to present viewers with a sort of vicarious vacation. Movies like The Tourist allow their settings to be just as much of a main character as their beautiful leads are. Like the movie that hits Blu-ray today, all it takes is a few unrealistically gorgeous faces (Angelina Jolie, check; Johnny Depp, check) and a picturesque and breathtaking setting (Paris, check; Venice, check) to get viewers to feel like they just took a little two hour fantasy European excursion from the convenience of their couch or comfy theater seat. The Tourist is part of a long line of travel-inspiring films that span everything from the classics to teen movies, but they all accomplish the same thing. They all give the people what they want: beautiful people in even more beautiful places.
When you combine a few of these European adventures, you get a sort of virtual European tour through film and since The Tourist places us firmly in Venice, what would be a better place to start than the boot-shaped nation of Italy?
Italy
Obviously, Europe has a great many beautiful locations to offer, but Italy has quite a few vacation destinations. It would be worth spending a little extra time here and the numerous films that take place here are just further proof of that fact.

Roman Holiday
Pretty People: Audrey Hepburn and Gregory Peck
Locale: Rome
You really can't have a list of European excursion films without including the granddaddy of them all. This classic pits Hepburn's sheltered princess against Peck's hard-hitting, cantankerous reporter and they fall in love as they tour the classic city together. The film plays on the city's rich history and beauty and gives us one of the most classic scenes in film, the Mouth of Truth test.

The Talented Mr. Ripley
Pretty People: Matt Damon, Jude Law, Gwyneth Paltrow
Locale: Venice, Naples, Tuscany, Rome, Sanremo
Admittedly, this part of your tour is a little more stressful than the romantic adventure you get in Roman Holiday, but the film takes you all over the beautiful country and there are few things sexier than beautiful people in beautiful clothes navigating an extensive and mysterious plot in beautiful locations. One of the most breathtaking of the film's locations is the island of Ischia (in the bay of Naples) which is full of beautiful Cliffside views, gorgeous beaches, and ancient ruins. Not a bad place to spend a few intriguing hours, eh?

Only You
Pretty People: Robert Downey Jr., Marisa Tomei
Locale: Venice, Tuscany, Rome, Positano
Well, this film does start in dreary Pittsburgh, but it quickly takes us on a whirlwind tour of Italy all in the name of fate and true love. The plot is fairly pedestrian, but plays on some of our favorite classic films, especially Roman Holiday, and nothing can beat Robert Downey Jr. pursuing the woman of his dreams in one of the most beautiful countries on the planet. The film's climax takes place in Positano, a gorgeous city propped on a seaside cliff and if it doesn't make you want to book an Italian vacation on your laptop as the romantic conclusion plays out there's something wrong with you.
Spain
There aren't as many films that take advantage of the beauty Spain has to offer, but there is one that truly merits a stop on this tour.

Vicky Cristina Barcelona
Pretty People: Scarlett Johansson, Javier Bardem, Penelope Cruz, Rebecca Hall
Locale: Barcelona (duh)
There's little to complain about with this film, unless you hate gorgeous locales and super sexy people getting super sexed up. You don't hate that do you? Barcelona feeds the sexual freedom seen in Cristina, Juan Antonio and Maria Elena and makes the cautious Vicky question her reserved ways. Barcelona is as integral to this film as Javier Bardem's sheer magnetism is to well, life. (How hot is he?)
France
It's long been touted as the location for the getaway of all getaways, the most luxurious sunny vacation you can imagine. It represents the height of luxury and class, so it's no wonder it's a stop on our little flight plan.

To Catch a Thief
Pretty People: Cary Grant, Grace Kelly
Locale: French Riviera, Cote d'Azur, Cannes, French Alps, Monaco (Technically not France, but we'll allow it)
Not only do we have two of the most classically beautiful people unraveling the mystery behind a series of jewel heists (which as you know are the sexiest of all heists), but they're doing so in one of the most beautiful places you can imagine. As they fall in love and Grant's persistent John Robie straddles rooftops to catch the real jewel thief, you can't help but allow the beauty of the setting to add to the sweeping adventure of it all.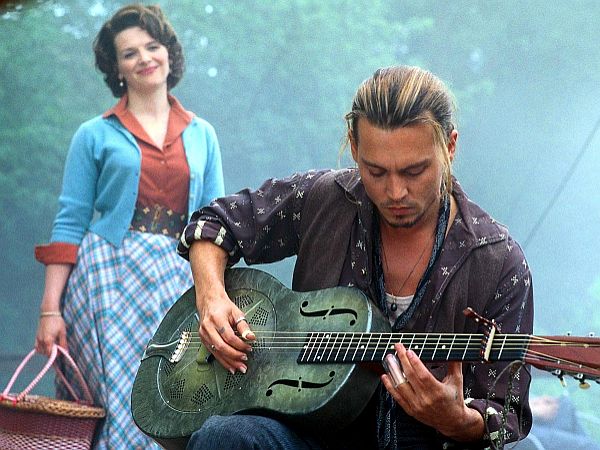 Chocolat
Pretty People: Johnny Depp, Carrie-Anne Moss, Juliette Binoche
Locale: Rural France
This romantic little film combines our two favorite ingredients, beautiful people and beautiful places, with one other fantastic ingredient: CHOCOLATE. Um, hi. This sounds like paradise. Besides, it also includes a scene where our heroine gets to make out with Johnny Depp…in a boat…on a river…in France. I want to go to there.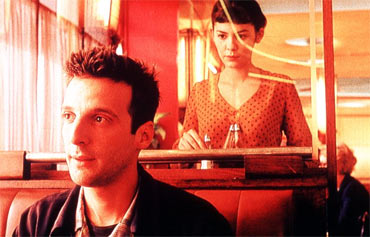 Amelie
Pretty People: Audrey Tatou, Mathieu Kassovitz
Locale: Every inch of Paris
Of course, this film is the fantastic tale of Amelie, the shy and sheltered little Parisian lady who finds love, but pursues it in her own eccentric way with encouragement from her friend, a wise old painter with brittle bones. (And the object of her desires, Nino, is just about as cute as button.) However, another character necessary to the plot is the living, breathing city of Paris, which lends beauty and shape to the film.
England
We don't always think of England as being beautiful, it's often thought of as nothing more than a gray and dreary landscape, but the beauty of the city of London is undeniable. The centuries of architecture are breathtaking and there are a few films that take advantage of that.

Love Actually
Pretty People: Colin Firth, Chiwetel Ejiofor, Andrew Lincoln, Keira Knightley, Hugh Grant, Martine McCutcheon, Rodrigo Santoro among others
Locale: London
The film follows eight couples (some of which are comprised of very, very pretty people) as they go through different bouts of love, but the beautiful backdrop for all this mushy stuff is the magnificence of the city of London. It may not be as instantly romantic as the streets of Paris or Rome, but it is beautiful and with the help of a little romance, the film really showcases that.
Germany (and Prague)
Neither of these places are touted for their beauty in most main stream culture, but a few films have managed to find ways to bring out the best in these locations.

Chasing Liberty
Pretty People: Mandy Moore, Matthew Goode
Locale: Berlin, Prague, Venice, London
Yes, I know this was one of those run of the mill teen romantic comedies. Yes I know Mandy Moore isn't that great it in, but she's so pretty! And so is Matthew Goode for that matter and thanks to this movie we met him long before Match Point. The thing that puts this average movie above its contemporaries for me is the sheer beauty of the shooting locations. They don't even touch Paris or Rome and they spend a great deal of time showing us the wonder of gorgeous European locales that get far less attention: Prague and Berlin. (No, xXx does NOT count.)
Austria
For the life of me, I can't figure out why more romantic movies don't take place in Vienna. I mean, just look at this and tell me you don't want to book a ticket right now.

Before Sunrise
Pretty People: Ethan Hawke, Julie Delpy
Locale: Vienna
It's the perfect beautiful people in beautiful places romance: it happens by chance, it's brief and beautiful, and it feeds off of the classic city where it occurs. They meet on a train, Hawke's character has no money for a hotel, so they simply spend the entire evening roaming the beautiful city in the best getting-to-know-you set up ever. It really doesn't get any better than this.