The 'Beautiful Ruins' Movie Officially in Perfect Hands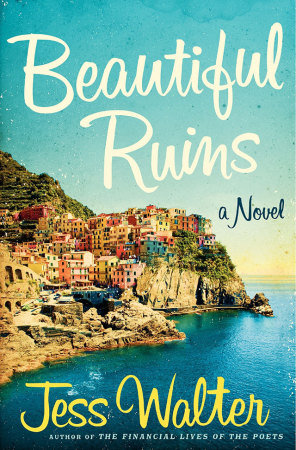 We here at Hollywood.com are awfully big fans of the 2012 global and generation-spanning novel Beautiful Ruins, to say the least. In fact, we declared the book's writer Jess Walter (The Financial Lives of the Poets) our breakout author of that year and the book itself one of the year's 10 best. So our expectations for a film adaptation of the funny, heartbreaking, and beautifully written piece of literature were awfully big, to say the least. 
Mind you, this is a story that's almost too perfect fit for the big screen: from its glorious locations like a picturesque hotel on the Ligurian Sea, to the fact that a large portion of the story is a love letter to old Hollywood love stories, Beautiful Ruins  would be a sensory delight, with a (hopefully great) ensemble cast to boot. 
So imagine our utter delight when it was announced on Monday that Oscar-nominated actor/writer/director Todd Field would be getting behind the camera for the first time since 2006's devastatingly good Little Children to bring Beautiful Ruins to a theater near you.
Even better, Field will not only direct and produce, but he'll co-write the screenplay with Walter. As far as turning beloved books into full-length features that not only do the text justice, but stand on their own as great pieces of work, Field is two for two. Not only did his take on Little Children  pick up on all of intricacies Tom Perrotta's darkly funny, sexy, and oft depressing slice of suburban Americana, but he also made one of the most darkly funny, sexy, and oft depressing movies of that year. Plus, he got Kate Winslet to turn out one of her all-time great performances as a bored housewife. 
Five years prior to Little Children, Field made his full-length directorial debut with In the Bedroom (which he also co-wrote), which also did its original text justice (here, from Andre Dubus' short story collection of the same name), as well as being a visually-captivating, shocking, memorable, Oscar-nominated film which got its already-impressive cast to turn out even more impressive performances. (Tom Wilkinson, Sissy Spacek, and Marisa Tomei all earned nods). 
While it's more than fair to say that Field knows what he's doing with adapting brilliant books into equally brilliant films, Beautiful Ruins is actually a bit out of the director's realm. Walter's novel, in comparison to Little Children and In the Bedroom is less heavy fare (that's not to say it doesn't pack emotional wallops, because it most certainly does) and it trades cold suburban landscapes for sunny locations in Italy and California. 
Still, Field is an expert on picking up on the little things, and getting us in the minds of the characters. Beautiful Ruins may be a grander, more sweeping story than his previous efforts, but what made that book such a hit with readers (including us) was the getting to know all of the characters over the span of years and thousands of miles. Field can tell a big story that can shifts from harrowing drama to razor-sharp comedy, whether its on a seemingly quiet suburban street or the Hollywood hills and from the perspective of the young and old, the hopeful and the hopeless. It's a thing of beauty, really. 
[Photo credit: Harper Collins] 
More: 
Jess Walter, 'Beautiful Ruins' Writer: Hollywood.com Breakout Author of 2012 
Hollywood.com's Picks for the 10 Best Books of 2012 
20 Hot (and Horrifying) Sex Scenes in Movies