'Beauty And The Beast' Coming To 3D Blu-ray In October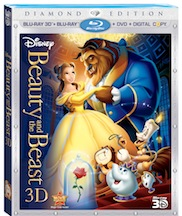 Don't have enough Beauty and the Beast? Not entirely satisfied with your older Beauty and the Beast on Blu-ray? Wish it was just a little better in 3D? Well, your incredibly specific desires have been answered! The Beauty and the Beast: Diamond Edition 3D comes out October 4t and features the movie in just about every format imaginable: 3D Blu-ray, Blu-ray, DVD, and digital download.
Why? Because one format isn't enough these days. It'll also include all the bells and whistles you've come to expect like extended versions of the film, deleted scenes, behind-the-scenes features, and a bunch of stuff about the soundtrack like music videos, sing-a-longs, and alternate versions. It's quite honestly about all the media ever created for Beauty and the Beast in five discs. Be sure to hurry and get it before it goes back in the vault (remember when they said that the last time? They're super serious this time).
Source: Disney