Who Played Him Better?: Benedict Cumberbatch Vs. Bill Hader as Julian Assange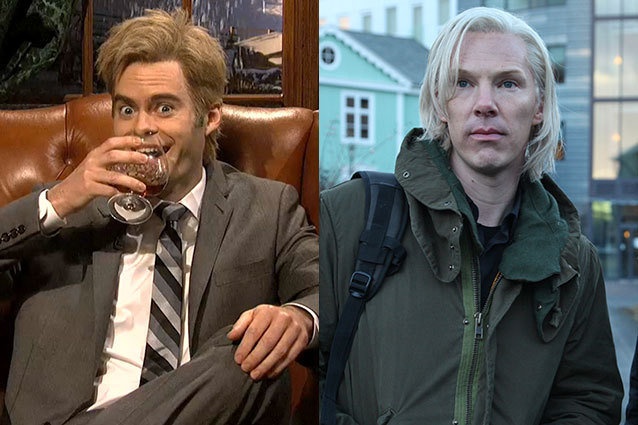 NBC/DreamWorks
Since WikiLeaks exploded into the public consciousness in 2007, people worldwide have been fascinated by its founder, Julian Assange. The new film The Fifth Estate, attempts to understand Assange and show the founding of WikiLeaks — it's sort of like The Social Network, but with classified political documents. Assange is played in the film by Benedict Cumberbatch, but he's not the first to take on the role: Bill Hader, Saturday Night Live's master of characters played Assange on three different shows. In honor of The Fifth Estate, which opens today, we've decided to pit the two against each other and see, once and for all, who makes the best Julian Assange.
The Accent: Although Assange is originally from Australia, he has spent much of his life in Europe, resulting in a distinct accent that is a mix of several influences — meaning that both Hader and Cumberbatch have their work cut out for them when it comes to imitating it. For his part, Hader goes for an accent that sounds like it would belong to the bad guy in a black-and-white horror film, and while it works perfectly in a comedy context, it's just too goofy to be a true imitation of Assange. Cumberbatch fares better, and although it slips in places even in the trailer, it's much closer to a European-influenced Austrailian accent than what Hader's attempting.
Winner: Cumberbatch
The Hair: Perhaps Assange's most distinctive feature is his white hair, which lets him stand out from all of those other computer hackers/freedom fighters. Hader's wig on Saturday Night Live is not quite white or floppy enough to be a perfect match for Assange, but it pales in comparison to the tragic series of hairstyles that Cumberbatch rocks in the film. Regardless of whether or not the hair is an accurate representation of Assange's, Cumberbatch has to lose this round, because it distracts from everything else that is happening onscreen. Seriously, watch the trailer for The Fifth Estate and see if you notice anything other than the weird, stringy pieces of hair that are always hanging in Cumberbatch's eyes.
Winner: Hader 
Intimidation Factor: When Assange began leaking classified information through WikiLeaks, government officials were scared of the public backlash and about the consequences his actions would have on both the military and civilians. In the film, Cumberbatch revels in the power he gains through leaking the truth, including the ending sequence of the trailer, in which he declares that governments are all afraid of their people. However, Hader takes a different approach, and his Assange uses video messages to threaten the public — the funniest of which is a list of ways in which he plans to mess with popular websites for every day he spends in prison. While Hader is wonderfully funny, it's Cumberbatch who gives the more accurate portrayal. However, we can't completely discount that stroke of lunacy, and so this one is a draw. 
Winner: Tie
The Persona: Through interviews and profiles, Assange has become a character in and of himself. But who best captured that ideal combination of myth and ego? Cumberbatch tries his hardest, and his version of Assange does seem to see himself as fighting for truth and justice at all costs. However, Hader takes his Assange so far over the top that, with his maniacal laugh and a waggling eyebrow, Assange almost becomes a cartoon villain. It's less hacker-extraordinaire and more silent-film-bad-guy, but somehow Hader makes it work.
Winner: Hader
Assange Stamp of Approval: Much of the press surrounding The Fifth Estate in recent weeks has been about Assange's open letter to Cumberbatch insulting the film and requesting that he not take part in it. In fact, Assange has been quite vocal about the film being, in his opinion, inaccurate and unnecessary. However, he has never once spoken out against Hader's impression. Perhaps he didn't manage to catch any of the SNL episodes showcasing the sketch, or maybe he thinks it's too cartoonish to be taken seriously, or maybe he even finds it funny. Whatever the reason, Hader manages to come out on top here, purely due to Assange's lack of comment. In this case, we're going to take that as an endorsement.
Winner: Hader
So, with a score of 4 points to 2, it appears that Bill Hader does the best job of playing Julian Assange. Sure, it's a bit ridiculous and over-the-top, but it's fun, and if there's one thing that Assange could use, it's a sense of humor. To judge for yourself, you can watch one of Hader's SNL sketches below, and catch The Fifth Estate in theaters October 18, and then feel free to let us know who you think makes the better Assange.