'Lucy' Inspires Our List of the Best Female Superheroes
Lucy
She might not have a cape or tights or a league of fellow heroes to back her up, but there's no denying that Lucy is a superhero. She's got powers, she's got arch enemies, she's got the determination to fight through anything, and she's got Scarlett Johansson playing her. And, if Lucy does well, it might make studios a bit more likely to take a risk on putting some other female heroes on the big screen. We happen to have a few suggestions for where they can start...
Universal Pictures via Everett Collection
Batgirl
Barbara Gordon was one of the toughest, bravest and coolest superheroes around when she was paralyzed by the Joker. But instead of giving up her career as a crime fighter, she simply pulled herself together, changed her name to Oracle and formed the Birds of Prey, an amazing, intense collective of awesome female superheroes. It's like the Justice League, but more terrifying.
DC Comics
Storm
The first black female superhero, Storm is one of the most powerful and intelligent comic book figures of all time: a master thief, a talented sorceress and a kind, caring guardian to the children at Xavier's Academy. Plus, she can rock a Mohawk better than anyone else, real or fictional.
Marvel
Huntress
The child of a Mafia family who became one of Gotham's most feared vigilante heroes, Helena Bertinelli is the kind of heroine who has never let anyone's opinion change the way she sees herself or distract her from her mission. Sure, she might have a temper and be prone to violence, but hey, everyone has flaws.
DC Comics
She Hulk
Though she was recently at the center of some controversy (which gave all of us a great deal of faith in the way David Goyer will write female heroes for years to come) She Hulk has endured as one of the more unappreciated heroines. An intelligent, skilled lawyer who also happens to be a tough, capable fighter and a complex, interesting human being, Jennifer Walters has proven over the years that there's a lot more lurking beneath her powerful green surface.
Marvel
Scarlet Witch
Part time member of the X-Men, part time Avenger, the Scarlet Witch is the only heroine on this list to appear in two film franchises at the same time. It makes sense: if you had the opportunity to bring an all-powerful mutant witch with a history of fighting for both good and evil and who happens to have a wise-cracking twin brother, you wouldn't let it pass by either.
Marvel
Jean Grey/Phoenix
An integral part of what has made the X-Men such a compelling, enduring group of heroes, Jean Grey's best moment came when she sacrificed herself and the unimaginable powers that she had in order to protect the people she loved. That's the kind of hero we should all look up to.
20th Century Fox Film via Everett Collection
Captain Marvel
Thanks to an interaction with a Kree alien, Carol Danvers gained superhuman strength, speed, and the ability to absorb and project energy, but her biggest accomplishment thus far has been turning Captain Marvel from a lesser-known hero into a true comic book icon. Shazam who?
Marvel
Catwoman
Sure, she's usually more of a villain than a hero, but Catwoman is still one of the toughest, smartest and best-dressed comic book characters of all time, and her skill with a bull ship should be admired, even if she's using it for evil more often than not. And one day, if we're lucky, she'll finally get the movie she deserves.
Warner Bros. Pictures via Everett Collection
Rogue
Being a mutant is tough. Being a teenage mutant with the bad habit of accidentally killing everything you touch is a nightmare. But Rogue never the unfortunate side of her powers stop her from becoming one of the most compelling, complex and badass comic book characters of all time. She's not just a superhero, she's a role model for kids dealing with the downsides of puberty everywhere.
Marvel
Kitty Pryde
Originally a naïve, innocent little girl who needed to rely on the X-Men for everything, Kitty Pryde has grown into one of the most important, relevant, and iconic characters in the series' history. She was the catalyst for Days of Future Past, the book's most famous and world-changing arc of all time, she's proven herself to be a smart, competent hero and a strong, self-sufficient woman capable of taking control of every aspect of her life. Yet for some reason, the films just want to focus on Wolverine instead.
20th Century Fox Film
Spider Woman
Originally brainwashed into becoming a HYDRA agent, Jessica Drew/Spider Woman actually has more spider powers than her male counterpart. She doesn't just swing from building to building, she can cling to solid objects, discharge venom and she's resistant to physical injury and basically all poisons, toxins and radiation. And you never had to listen to her whine about being a geek, either.
Marvel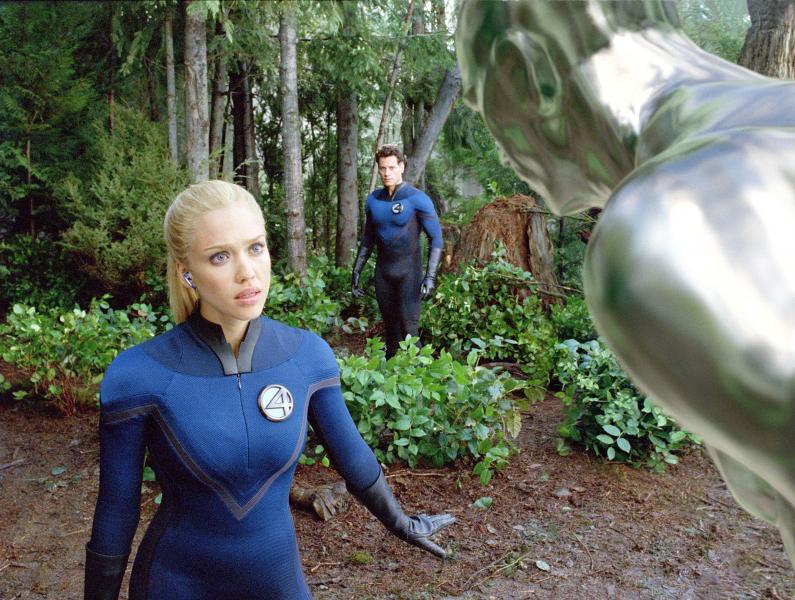 Invisible Woman
She might have been just a damsel-in-distress at the beginning of her tenure with the Fantastic Four (because first female superhero or not, what else is a female character good for?), but over the years Sue Richards has established herself as a strong, capable and valuable member of the team as well as a force to be reckoned with. Oh, and she's a rocket scientist, so take that, critics.
20th Century Fox Film via Everett Collection
Black Cat
Television isn't the only medium that can pull off a compelling ant-hero; take Felicia Hardy, a super-powered cat burglar who is sometimes Peter Parker's girlfriend and sometimes his mortal enemy. She's also a style icon for aspiring villains everywhere; between that hair and that cat suit, crime has never looked so good.
Marvel
Black Widow
A KGB superspy-turned-S.H.I.E.L.D.-operative-turned-Avenger, Natasha Romanoff is one of the most compelling, complicated and toughest superheroes of all time. Just take a moment and imagine the solo film, a Cold War superhero noir movie starring Scarlett Johansson. Have you ever wanted anything else that much in your life? Yeah, we thought not.
Marvel
Power Girl
Power Girl has all of the powers and abilities of Superman, but she's younger, more stylish and a lot more entertaining, thanks to her brash "punch first, questions later" mentality. Despite being the cousin of the most famous hero of all time, Kara was determined to be her own person and her own hero, and established herself as an individual with a unique set of talents and skills. She truly is "nobody's secret emergency weapon."
DC Comics
Wonder Woman
One of the most iconic superheroes of all time, Wonder Woman's dedication to truth, peace, justice and equality is just as admirable as her combat skills and superpowers. In fact, some – like us – might venture that she might even be better than her male Justice League counterparts, and we will never give up until she gets an epic movie that proves that point.
Warner Bros. Television
Black Canary
The third key member of the Birds of Prey, Black Canary has been taking down bad guys for decades using only her Canary Cry, a sonic scream powerful enough to even throw Wonder Woman off balance, and her impressive martial arts skills. She's also one of the few heroines on this list to make it onscreen, and is set to become a major player in Arrow. See? The CW is good for more than just Top Model!
DC Comics