Ode To Paul Rudd: The Older Brother/Cousin We All Wish We Had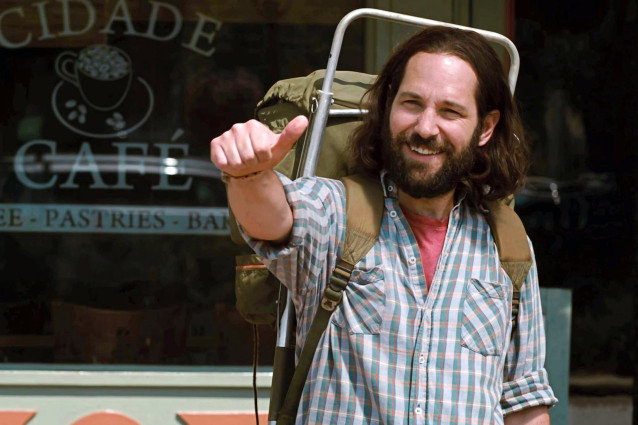 The Weinstein Company
Can you recall the exact moment when you fell in love with Paul Rudd? Perhaps, for you, it was when he played David in The 40-Year-Old Virgin, a heartbroken Smart Tech employee who taught us that "love is a strange fish." Or maybe it was when he played the worst Role Model ever, threatening children with bodily harm but coming through in the end and helping an innocent little boy (Christopher Mintz-Plasse) achieve his dream of winning LAIR. Whenever it happened, it was surely a great moment because there's something incredibly awesome about Paul Rudd. Overwhelmingly sarcastic to the point of hilarity, kind of a douche, and generally unimpressed with most things in life, Rudd has continuously played the older brother/cousin we all wish we had. As the Anchorman 2 premiere approaches and we prepare for the return of Brian Fantana, let's take a look back at some of his best on-screen moments.
The Cider House Rules
Before he was Brian Fantana, before he was a 40-something guy married to Leslie Mann, Paul Rudd was just a handsome young soldier in the critically acclaimed 1999 movie, The Cider House Rules.
Anchorman: The Legend of Ron Burgundy
He introduced us to Sex Panther cologne, and to statistics that literally make no sense: "60% of the time, it works every time."
The 40-Year-Old Virgin
David was sweet, kind … and sort of a stalker. He was so distraught after losing Amy, the love of his life (played by Mindy Kaling), that he spent most of the movie walking around looking a hot mess. It was adorable. We'll go to Paris with you, David. We'll go.
Knocked Up
Before bromances were even cool, Pete and Ben were the coolest … and yeah. Kind of the douchiest. But mainly cool. And as far as Ben's bromantic feelings towards Pete? Well, we feel pretty much the same way. How do you argue with a guy like Paul Rudd?!
Role Models
In one of his darker roles, Rudd played Danny, a 'miserable d–k' who really just wanted a large coffee.
Our Idiot Brother
You gotta love a guy who has such a big heart (and such a tiny brain) that he can't resist providing some illegal, medicinal herbs to a policeman in need. Let's all give it up for Ned, the idiot brother we secretly want even if it means he has to crash out our house and ruin our lives for a spell.
Clueless
In case you forgot, he was also Josh from Clueless! Commence swooning.