Best Use of Drag in Movies
Some Like it Hot (1959)
This timeless Billy Wilder classic finds Jack Lemmon and Tony Curtis as musicians on the run. They dress up as women and tour with an all female music group featuring sexpot Marilyn Monroe. This film helped establish the entire drag genre. In the final scene, Lemmon confesses to his suitor that he's a man. The man replies, "Nobody's perfect." In the Golden Age of Hollywood, the prospect of two men together was taboo. This could be seen as a joke but the character's easygoing attitude to being with a man is pretty progressive.
Everett Collection
Psycho (1960)
Spoiler alert: there's drag in this film. This film isn't exactly a huge step forward politically. But it did shock audiences that Norman Bates was so obsessed with his mother that his personality split and he even dressed like her. Also, Norman was a drag queen…he used the female visage of a woman he admired to get out something emotional or artistic. Sadly, it was his murderous inclinations. The film does break some barriers despite some problems.
Paramount Pictures
The Rocky Horror Picture Show (1975)
This film is a major cult classic for outsiders. Tim Curry's character of Dr. Frank-N-Furter explores his feelings of isolation through song. Although he does identify as a transvestite, which is vastly different than a drag queen…he was also an alien from another planet. The politics may be iffy but he did make it okay for more men to wear women's clothing. It also featured two men having a consensual love scene which is pretty progressive.
20th Century Fox via Everett Collection
Tootsie (1982)
This film is a drag genre classic. It does more for feminism than it really does for gay rights or drag culture…but there's nothing wrong with that. Dustin Hoffman shocked the world by donning women's clothes and a bad southern accent to play, Dorothy. The film explored the complexities of the gender divide and features the incomparable Jessica Lange as his love interest. Through dressing like a woman, Hoffman's misogynist character sees the other side of the gender divide.
Columbia Pictures via Everett Collection
Victor/ Victoria (1982)
Julie Andrews becomes Disney's first drag king. In this edgy musical comedy, she plays a woman impersonating a man impersonating a woman. All the gender-bending in this film subvert what you normally would expect from the drag comedy genre. Seeing someone with such a squeaky clean image as Andrews dressing like a man helps make it less taboo. It also features a prominent French drag queen as a major character and legitimizes female impersonation as an art form. It is notable for getting some major Academy Award Nominations including one for Andrews.
MGM via Everett Collection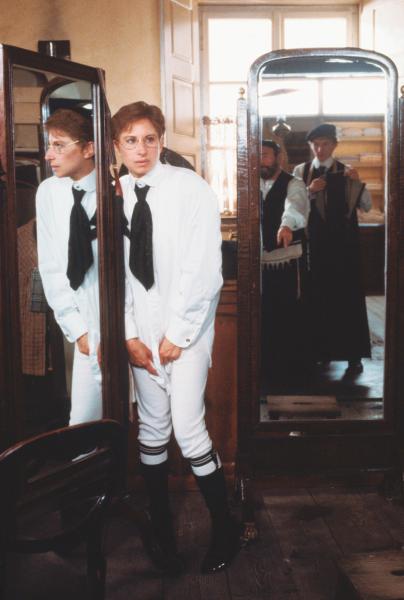 Yentl (1983)
Barbara Streisand in orthodox drag. This film politicized the genre as Streisand's character tries dresses like a man to pursue her love of Rabbinical studies. The film touches on a lot of political issues like feminism, transgender politics, and homosexuality. Yentl admits to having the "soul of a man." She also falls for her study partner and pursues a relationship with him while pushed into a marriage with a woman. Despite never officially endorsing these politics combined with religion and a musical score this film opens up a lot of important conversations.
United Artists via Everett Collection
Just One of the Guys (1985)
This 80s teen comedy finds a girl going undercover at a school to try and get a journalism scholarship. As expected, she learns a lot about the opposite sex and falls in love. Having a girl in the lead is also pretty progressive. The film also touches on how much the Terry (Joyce Hyser) character seems gay. She also falls for an outcast. The film explores bullying and masculinity in an interesting way and subverts the genre which mostly follows men dressed as women for comedic effect. Instead, this comedy is more heartfelt and features one of the more shocking reveals when Terry flashes her breasts to prove she's female.
Columbia Pictures via Everett Collection
Nine 1/2 Weeks (1986)
This film explored a lot of sexual games and fetishes. One of these games finds Kim Basinger dressing like a man and sitting at a bar with her lover (Mickey Rourke). Although it borders more on transvestism seeing a mainstream actress dressed as a man is pretty progressive.
MGM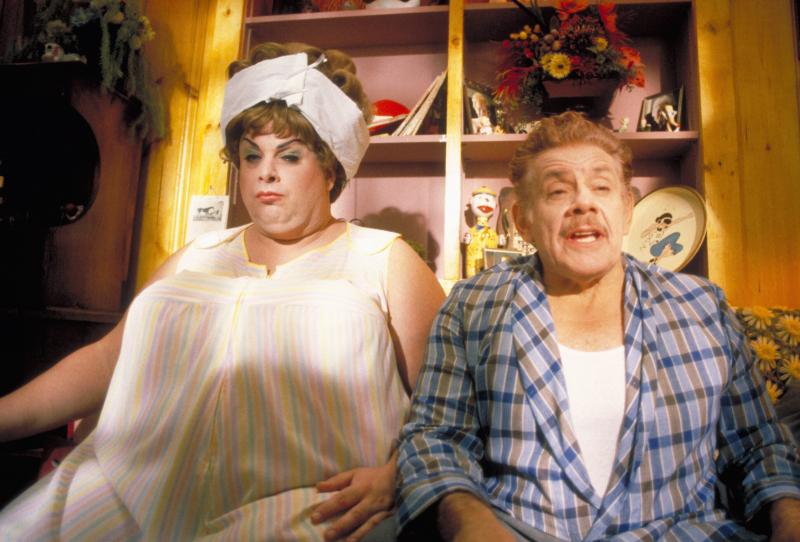 Hairspray (1988)
Divine is by far the first male drag movie star. This film was sadly his last major film in drag but his reputation lives on. He did double duty in and out of drag playing two different characters. The film spawned a successful musical and a film based on that musical. It is compelling because it features Divine in drag playing a female character. His performance is less about him being a man in drag and more about his performance. There is a certain amount of camp but it does show that drag queens can play female characters.
New Line Cinema via Everett Collection
The Crying Game (1992)
This film shocked audiences with one of the most famous spoilers in history. Stephan Rea plays an IRA member who promises to take care of a prisoner's girlfriend. The big reveal….she's transgender. This film does send a bizarre message because it's a little sloppy in handling trans character, Dil (Jaye Davidson). Davidson donning drag to play her and the multiple gay relationships did open some people's eye. But let's be honest…it's one gag of a reveal.
Miramax via Everett Collection
Mrs. Doubtfire (1993)
A drag kid's film? This film not only features a Jim Henson take to drag but it also seamlessly incorporated gay family members. Immature family man, Daniel Hillard (Robin Williams), tries to spend more time with his children by becoming their Nanny. The film played with the genre while capitalizing on make-up effects. It is important to drag because Daniel is able to find work as Mrs. Doubtfire. It also includes his gay brother and brother-in-law played by Harvey Fierstein and Scott Capurro.
20th Century Fox via Everett Collection
To Wong Foo Thanks for Everything, Julie Newmar (1995)
This film is ahead of its time. It's sad that despite how expertly this film explored the drag scene that it didn't get more national attention. Sure it was major to see Patrick Swayze, John Leguizamo, and Wesley Snipes in drag. However, it was also a major moment for the gay community. The film took the time to dispel a lot of misconceptions about the art fom. It also put three drag queens in a sleepy Southern town and found that they could actually make things better. There are also cameos by major drag personalities RuPaul, Lady Bunny and Coco Peru.
Universal via Everett Collection
The Associate (1996)
Remember when Whoopi Goldberg made movies? This comedy finds Goldberg at the top of her game as stock analyst, Laurel Ayres. However, she has reached the glass ceiling. She invents a white, male, partner that she credits with her ideas to gain major financial success. When the pressure gets to be too much Whoopi breaks barriers by dressing in white male drag to secure her clients. This film is major in exploring not only sexual and gender politics but exploring race.
Buena Vista Pictures via Everett Collection
The Birdcage (1996)
Based on the French-Italian film "La Cage aux Folles," this comedy finds Robin Williams and Nathan Lane trying to convince their son's conservative in-laws that they are a normal heterosexual couple. What results is a comedy of errors as Lane, a famous drag performer, attempts conservative realness to trick them. The film tries to bridge the gap between the comedy genre and the actual world of drag. It's also funny to see Gene Hackman and the other characters don really bad drag.
United Artists via Everett Collection
Shakespeare In Love (1998)
Before she became the unholy ruler of Goop, Gwyneth Paltrow won America's hearts playing a British actress who bucked against convention. She dressed like a man in order to play a woman in the Shakespearean theater. This fictional love story provided a sensationalized origin for "Romeo & Juliet" and "Twelfth Night." It also won Paltrow an Oscar.
Miramax via Everett Collection
Flawless (1999)
The late great Phillip Seymour Hoffman shocked audiences by playing a very convincing gay man but a very busted drag queen. This touching film finds Hoffman's character Rusty attempting to help homophobic stroke victim and former police officer, Walter Koontz (Robert DeNiro). The film didn't do much to end stereotypes or drag queens and distinguish them from transgender women but it was inspiring to see a homophobic man become an ally.
MGM via Everett Collection
White Chicks (2004)
It's unclear whether this is a step forward or backward in drag. However, this stupid comedy finds two police officers (Shawn & Marlon Wayans) dressing like two heiresses to protect them from a kidnapping plot. The film does provide a lot of commentary on cultural figures like Paris Hilton and the expected race/gender jokes. But it is pretty impressive to see the two male characters embody women and bring drag to a new level in film.
Columbia Pictures via Everett Collection
La Mala Educación (2004)
Gael Garcia Bernal played both a man in drag and a transgendered woman in this sexual drama from Pedro Almodóvar. He plays a drag performer and transgendered woman Zahara. Not only is she a fierce queen but sadly she's the victim of abuse. Bernal also plays Ángel an actor trying to get Zahara's story made into a film. The film presents a complex story that sensitively explores these characters. Plus, Bernal's transformation is shocking.
Sony Pictures via Everett Collection
She's The Man (2006)
Thankfully, this film seemed to put an end to the "drag genre" and the countless teen films based on Shakespearean classics. Based on the play "Twelfth Night," Amanda Bynes plays Viola who poses as her brother Sebastian, a shocking look-alike James Kirk. As expected she gets female attention and falls for Duke Orsino (Channing Tatum). This film has all the things you expect from a drag comedy but it is a time capsule for a pre-breakdown Bynes and an early Tatum.
Dreamworks
I'm Not There (2007)
This Bob Dylan bio-pic features Cate Blanchett playing the iconic singer. It's major to see a high profile actress playing a male character without having to call too much attention to itself. Blanchett did a very convincing job and showed that actors can play roles outside their gender.
Weinstein Company via Everett Collection
Salt (2010)
Jolie dressed like a man in this spy film. What's so shocking is that Jolie is as hot as a man as she is as a woman. Talk about great genetics. She's disturbingly more handsome than her brother and former kissing partner, James Haven.
Columbia Pictures