Which Upcoming Bill Murray Project Are We Most Excited About?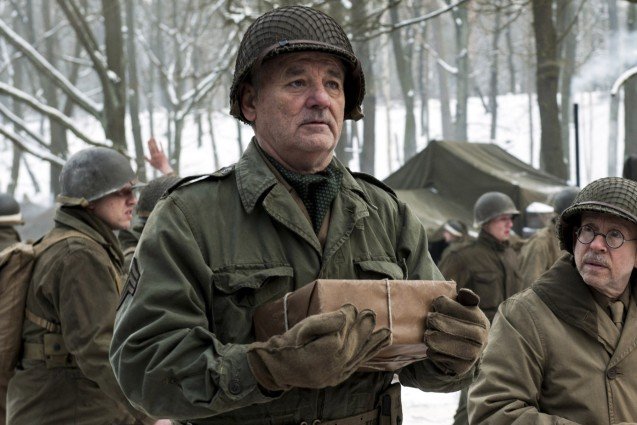 Sony Pictures via Everett Collection
Bill Murray must have taken a lot of phone calls as of late. The actor, who has famously done away with the standard Hollywood agent model, and instead created a 1-800 number where people can call and pitch their scripts to an answering machine, has a ton of projects lined up for 2014. From another adventure with Wes Anderson, to a secretive Cameron Crowe fantasy film, and even a television show, the actor has certainly kept himself busy. Here's the list of Murray's projects that are scheduled to come out in 2014, and the reasons we're excited about them.
The Grand Budapest Hotel
Plot: Ralph Fiennes plays a concierge who is framed for the muder of an elderly guest at his hotel.
Why We Want to See It?
 – It's another chapter in the classic Wes Anderson/Bill Murray teamup
 – This movie somehow looks more…Wes Anderson-y than Moonrise Kingdom.
 – The cast offers a ton of great actors for Murray to bounce off of.
Olive Kitteredge
Plot: In this upcoming HBO miniseries, Frances McDormand plays  a school teacher living in a costal Maine town filled with secrets.
Why We Want to See It?
 – Bill Murray has never done a TV show so this is huge. It's a weekly dose of Bill Murray.
 – It's based on a Pulitzer Prize winning novel.
 – The cast includes McDormand, who had great chemistry with Murray in Moonrise Kingdom.
The Monuments Men
Plot: A group of unlikely soldiers must rescue priceless pieces art from the Nazis before they are destroyed, and return them to their owners.
Why We Want to See It?
 – It's Bill Murray vs. Nazis
 – It's like a mini Ocean's Eleven reunion, and Bill Murray decided to crash the party and no one bothered to stop him.
 – This is the closest you're going to get to a Bill Murray action movie so soak it up.
St. Vincent de Van Nuys
Plot: In this dramedy, Murray plays a grumpy misanthropic retiree who befriends a 12 year old boy.
Why We Want to See It? 
 – The cast is full of great comedians
 – Bill Murray plays a character named St. Vincent de Van Nuys and that's just ridiculous
 – The actor gets to play cranky and cantankerous old person, which is always something he does well.
Cameron Crowe's Comedy Project

Plot: Bradley Cooper plays a defense contractor who's assigned to oversee the launch of a weapons satellite in Hawaii , but he falls for an Air Force pilot (Emma Stone) and decides to stop the launch of the satellite with the help of mystical forces.
Why We Want to See It?
 – Because of the mystery. Cameron Crowe is keeping his cards close to his chest on this one, so we cant wait to see how it all unfolds.
 –  Emma Stone and Bill Murray already shared some screen time in 2009's Zombieland.
 – What little of a plot summary we have sounds completely insane.