Billy Ray To Write, Direct Adaptation of 'The Secret in Their Eyes'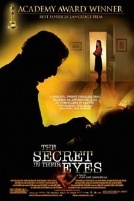 Billy Ray is set to write and direct a new version of the Argentinian thriller The Secret in Their Eyes, according to the Hollywood Reporter.
The original film, which just won an Oscar for best foreign film this past March, was directed by Juan Jose Campanella and adapted from the novel by Eduardo Sarcheri. It told the story of a retired criminal investigator in 2000 who's writing a novel — as a form of therapy — about an unsolved rape/murder in 1974. During his research, he meets a female judge that he has an unresolved history with.
Since its April release in the U.S., The Secret in Their Eyes has grossed $5.3 million.
Ray is pretty pumped up about the film and isn't being quiet about his aspirations.
"I want to try to make the movie that Anthony Minghella would have made from this material. Or Alan Pakula," he said. "I know that's setting the bar high, but it's the only reason to take something like this on. I am beyond excited about it, feeling truly privileged that a studio would take a shot on this kind of material."
And this isn't all Ray is up to right now. The writer/director is currently scribing a feature adaptation of Fox TV series 24 and a screenplay about the 2009 Somali pirate incident, and those are not small tasks. Is this dude going to have time to remake a movie that already won an Oscar? I guess I don't really understand the point of this whole project. With all the remakes and adaptations nowadays, I'm starting to wonder if there is ever going to be an original thought/idea from Hollywood again.
Source: Hollywood Reporter