Billy Zane Vs. Four Questions on Scorpion King 3: Battle for Redemption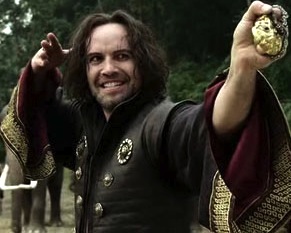 The chance to peer into the mind of Billy Zane (Titanic, The Phantom) doesn't come around very often, so when it does, it's a necessity to jump at the chance. Zane's latest is the third installment of the Mummy spin-off franchise, The Scorpion King, which sees actor Victor Webster swapping in for The Rock this go around. Without knowing too much more about the epic action/adventure movie The Scorpion King 3: Battle for Redemption (out now on Blu-ray and DVD), we pummeled Zane with four, equally epic questions to shed some light on his villainous character:
1) Who do you play in The Scorpion King 3 and how does your character fit into the established world of franchise?
Billy Zane: With a spatula [laughs]. My character's name is Talus and I play a power hungry warlord and in the quest for more power, I conjure up supernatural forces through something called the Book of the Dead.
2) Where does Talus stand compared to the other villainous characters you've played in the past?
Billy Zane: Probably not standing at all. Probably lounging on a chaise being fed with grapes and rolling around with harem girls.
3) How physical was the role and how was it to face off against Victor Weber in the movie?
Billy Zane: Victor Webster is no slouch. A formidable foe. He's a strong guy. We actually had a major fight scene planned with our final battle and we found a very interesting twist that may hark back to the classic Indiana Jones encounter with the sword fight. I'm not going to give you anything more than that. You have to see the movie to see the payoff.
As far as the other action, riding chariots at full tilt through explosions – not your every day fare.  Getting elephants charging you and cast of thousands brandishing pointy weapons, it's not a walk in the park.
4) Are you prepared/excited to see yourself in 3-D when Titanic returns to theaters next year?
Billy Zane: Sure am. It's going to be thrilling. Very interesting to say the least.