Sundance's 'Blackfish' Is Anti-Whale Captivity, But Its Trailer Is Just Anti-Whales
In this age of Game of Thrones mania, the name "Blackfish" brings to mind the elder Stark relative Ser Brynden Tully. But Gabriela Cowperthwaite's film Blackfish is set in a realm far from the Seven Kingdoms. The movie is a documentary that examines the modern practice of capturing orca whales and keeping them in captivity in places like SeaWorld.
Cowperthwaite first became interested in this topic when she learned of the gruesome death of SeaWorld killer whale trainer Dawn Brancheau. In 2010, Brancheau had just finished putting on her "Dine with Shamu" show with an orca named Tilikum when the 12,000 pound whale dragged her into the tank, thrashed her around underwater, and ultimately killed her. Two years and many lawsuits later, Tilikum would become the principal subject of Blackfish.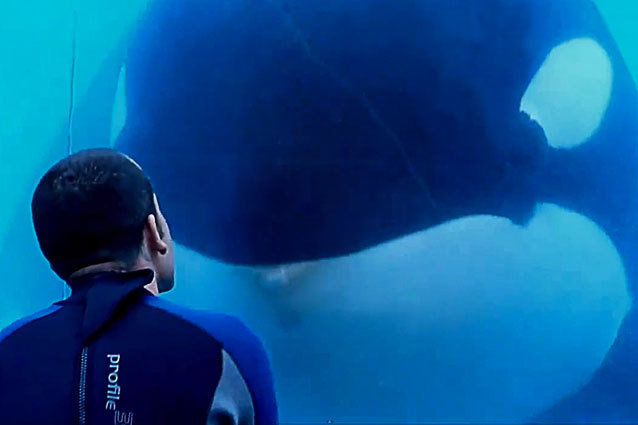 After receiving rave reviews at its Sundance premiere, the documentary was quickly snapped up by Magnolia Pictures, which released the first official trailer on Monday. The video is a display of whale footage set to haunting music and a recording of the 911 call that was made after Brancheau's death: "A whale has eaten one of the trainers." Coupled with the ominous movie poster that features the tagline "Never capture what you can't control," the trailer appears to be part of a marketing strategy to advertise the film as a thriller, painting the orca whale as a sort of savage supervillain. 
But it seems that Blackfish is more of an exposé into SeaWorld, which it highlights as a corrupt franchise that puts profit before both people and animals. Specifically, the film offers a pointed critique of the brutality of whale captures and harsh conditions in captivity. Although the park claims to be committed to engaging in purely humane practices, there is something to be said for keeping natural ocean dwellers locked up in a tank that is only 20 feet long and 30 feet deep. Early reviews from Sundance compare Blackfish to the disturbing dolphin documentary The Cove, referencing the slew of the shocking lies that the sea-park industry feeds to the public about the benefits of captivity.
While the trailer contains hints of the film's condemnation of SeaWorld, the general tone is that of anti-whale propaganda. Put simply, the documentary makes you want to free Willy. The trailer makes you want to get the hell away from Willy. Blackfish opens in limited release July 19.
Follow Caroline On Twitter @Carolinesb | Follow Hollywood.com On Twitter @Hollywood_com
More:
Kirsten Bell Saves 'Whales'
The Cove Filmakers Face Protest in Japan
The Cove Activists Orchestrate Sushi Sting
---
From Our Partners


Stars Pose Naked for 'Allure' (Celebuzz)


Which Game of Thrones Actor Looks Least Like His Character? (Vulture)