'Blade Runner' Backlash: Screening Notes Reveal Even Producers Hated the Movie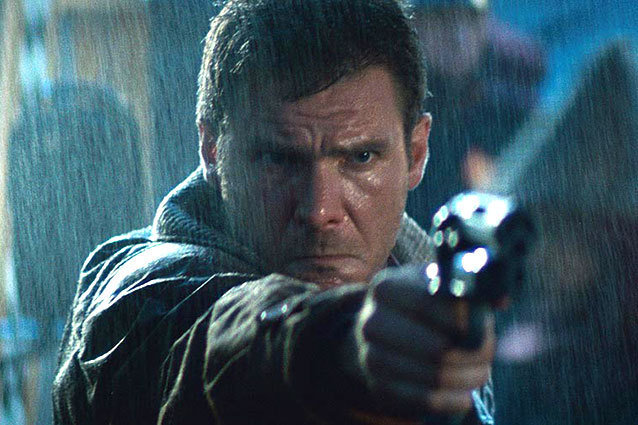 It is every movie's aspiration to earn the title of "classic." To leap beyond the reach of disparagement, to speak effectively to critics and audiences everywhere. But this is a pipe dream — all movies, no matter how celebrated, have their share of naysayers. There are plenty of people who think Citizen Kane is boring, who consider Jaws shallow and flimsy, who'd call 2001: A Space Odyssey a heap of nonsense. And throughout its three-decade lifespan, the seminal science fiction entry Blade Runner — in each of its many manifestations — has earned generations of enemies.
Since the endeavor to adapt Philip K. Dick's Do Androids Dream of Electric Sheep? to film was braved, Blade Runner has gone through a number of forms. The original product, as viewers will remember with a laugh, was weighted down by Harrison Ford's clunky, poorly scripted voiceover (an addition to the movie at the behest of the studio).
RELATED: Noomi Rapace Reveals Talks with Ridley Scott for 'Prometheus 2'?
It wasn't only Ford and director Ridley Scott who'd vocalize their distaste for this facet of the theatrical version of Blade Runner, but apparently — as newly revelaed by these acquried producers' notes from a 1981 screening of the film — executive producers Jerry Perenchio and Bud Yorkin… who also seemed to take issue with the music, the performances, the direction, and the very plot of the movie (not to mention the deficit of "tits" in the movie):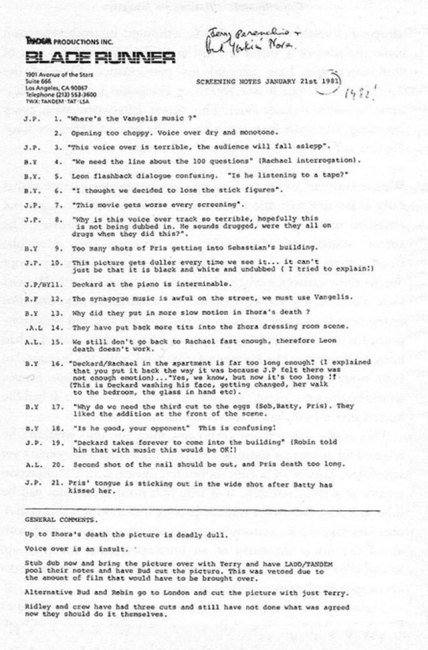 But the removal of this ill-conceived element in filmmaker Scott's 1991 Director's Cut release didn't quite solve the flick's problems for everyone, Scott included. It wasn't until 2007 that Scott was able to publicize his uninhibited creative construction of the film: The Final Cut, which was marked primarily by technical improvements on the previous incarnation.
RELATED: Harrison Ford to Return for 'Star Wars VII'
Through all of history's Blade Runners, new detractors have amounted, spotting flaws in every conceivable aspect of the movie. Checking out Blade Runner's Netflix page will give you an insight into the sort of animosity this movie has sparked.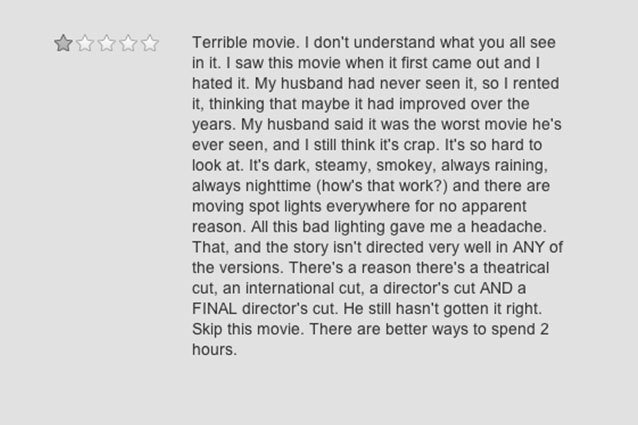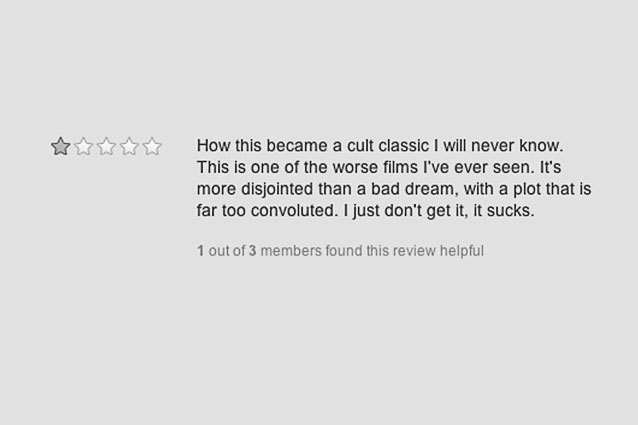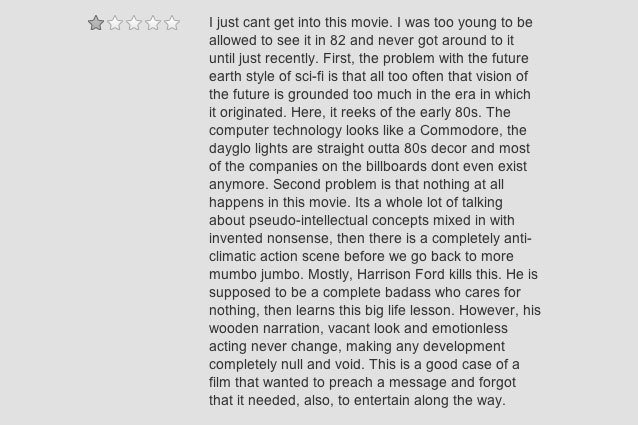 And yet through it all, Scott's '82 sci-fi is still considered a "classic." I guess Hollywood is subscribing to high school rules: just because you're popular, that doesn't mean anybody actually likes you.
Follow Michael Arbeiter on Twitter @MichaelArbeiter
[Photo Credit: Warner Bros., Reddit, Netflix(3)]
---
You Might Also Like:


Topanga's Revealing Lingerie Shoot: Hello '90s!


Stars Who Have Lost Roles For Being Too Hot (Celebuzz)