Bond Screenwriters Penning New Action Thriller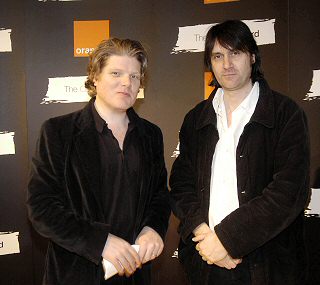 Neal Purvis and Robert Wade have become synonymous with the James Bond franchise (the duo has scripted the last four films in the series), but with 007 on hold for the foreseeable future, they are picking up work elsewhere. The Hollywood Reporter scoops that they've teamed up with power producer Walter Parkes to write an original action-adventure thriller based on a concept from Michael Lieber and Parkes.
The story takes place among the nomadic Taureg tribes of West Africa, an area rich with uranium that has become a focal point for both energy companies and terrorist states. An American anthropologist is thrust Into this geopolitical mess when he must travel back to the Sahara to help a former research subject who has been accused of a terrorist attack. Though comparisons to Blood Diamond and Indiana Jones will inevitably arise from that description, Parkes has given a little insight on the tone that he envisions for his new project:
"At its heart, this is an action movie set within a world that is morally complex, alluring and completely real — which is why Robert and Neal, whose work spans James Bond to John Le Carre, are uniquely suited to bring a project like this to life," he said.
As we all know, an original action film is hard to come by these days and one that is sure to address touchy political issues such as "energy", "terrorism" and "Africa" is even rarer. That knowledge fuels my anticipation for a project like this – that and the writers of Casino Royale and the producer of Gladiator and Men In Black. Hopefully a greenlight will be easier to get than I anticipate it will and we can see what this talented trio has cooking sooner than later.  
Source: THR