'Bourne Legacy' Box Office to Re-Boot at Number One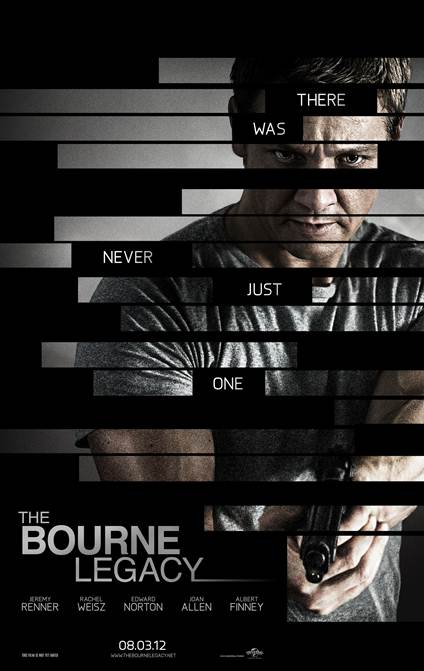 The Bourne franchise has been an incredibly successful property for Universal Pictures earning a worldwide total of $944.85 million for the three films that starred Matt Damon in his role as Jason Bourne. In the latest installment, The Bourne Legacy, double Academy Award nominee Jeremy Renner portrays Aaron Cross, a new character in a new story that carries on in the brainy-action tradition that the Robert Ludlum Bourne novels so effectively conveyed. The first film released in 2002, The Bourne Identity opened at number two with $27.1 million, but great word-of-mouth and critical praise propelled it to $121.66 million in N. America. In 2004 The Bourne Supremacy capitalized on the success of the first film and had a first place debut with $52.5 million and a total N. American tally of $176 million. The last Matt Damon led installment, 2007's The Bourne Ultimatum scored even bigger with audiences as evidenced by a number one debut of $69.3 million and a whopping N. American gross of $221.5 million. Essentially the beginning of what could be a new chapter in the Bourne franchise, this latest installment should earn somewhere between $38 and $42 million this weekend and knock the incredibly successful "The Dark Knight Rises" out of first place after dominating the box office for three weeks at number one.
With the 2012 presidential campaign in full swing and the general election coming up in November there is no better time to release an R-rated political comedy. Well, Warner Bros.' delivers the vote with The Campaign starring comedy superstars Will Ferrell and Zach Galifianakis. As bitter rivals in a North Carolina congressional campaign, Ferrell plays Cam Brady, the incumbent whose re-election is a fait accompli until he is challenged by Galifianakis' Marty Huggins, a God-fearing, Pug-loving competitor who is just clueless enough to pose a real threat. Given the perfect timing of the film and the solid cast as directed by Austin Powers franchise helmer Jay Roach, the film should win about $20 to $22 million in box office campaign funds this weekend.
Warner Bros.' The Dark Knight Rises has earned $367.014 million in North America in its first 20 days of release. By way of comparison, 2008's The Dark Knight had banked $410.8 million or $43.75 million more at this point and $441.6M by the end of its third weekend. The highly-praised superhero drama has been number one at the box office every single day since its July 20 release as it continues to generate tremendous word-of-mouth and until this weekend defended easily against all newcomers. 2008's The Dark Knight had a 39% fourth weekend drop (taking in $26.1M) and The Dark Knight Rises is on track for a fourth weekend gross in the low $20 million range with additional IMAX fueled dollars as the film approaches the $400 million mark in North America and the $800 million mark worldwide.
Sony Pictures re-boot of the 1990's sci-fi classic Total Recall starring Colin Farrell, Kate Beckinsale and Jessica Biel earned $25.6 million in its debut last weekend and has been holding steady in third place in the mid-week box office race. This re-boot of the classic 1990 Paul Verhoeven original starring Arnold Schwarzenegger and Sharon Stone has had its detractors but should still earn in the low to mid teens this weekend and wind up with close to $50 million at the domestic box office by Sunday night.
The third wide release newcomer this weekend is squarely aimed at older moviegoers looking for something on the lighter romantic side with the Sony Pictures release Hope Springs starring Meryl Streep and Tommy Lee Jones. The PG-13 dramatic comedy follows a middle-aged couple through an intense week long therapy session and co-stars Steve Carell as their therapist. The film opened on Wednesday with $2.26 million and should earn about $10 million this weekend and a total approaching $14 million by the end of the weekend.
Entering its second weekend Twentieth Century Fox's Diary of a Wimpy Kid debuted with just $14.6 million last weekend, but still has appeal for family audiences looking for wholesome PG-rated entertainment and thus could try to sneak into the Top 5.
Only four summer box office weekends left as we enter the home stretch of the season and await a crowded line-up of new releases next weekend including Disney's The Odd Life of Timothy Green, Lionsgate's The Expendables 2, Focus Features' ParaNorman and Sony's Sparkle.
[Photo Credit: Universal Pictures]
More:
'Bourne Legacy' Inspires Summer Movie Spin-Offs of Our Dreams
The Reboot Glossary: Which Hollywood Buzzword Fits the Bill?
'Bourne Legacy' Mentions Matt Damon a Lot Because That's What People Care About — TRAILER