'42' Hits a Box Office Home Run!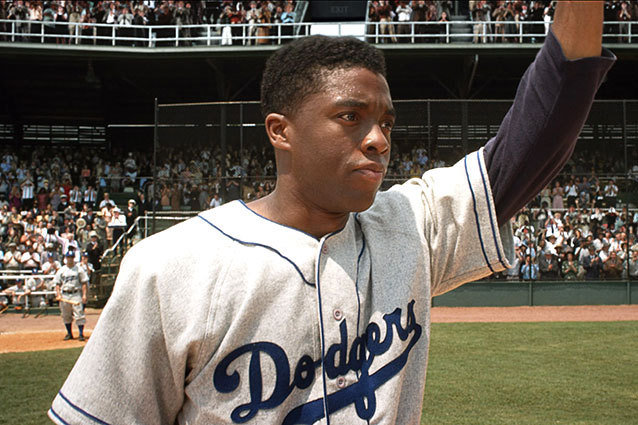 42, the inspiring true life story of baseball icon Jackie Robinson knocked it out of the park this weekend with a much better than expected $27.25 million.  A 25% uptick on Saturday reflected great word-of-mouth for the film which was projected to earn in the high teen millions.  Starring Harrison Ford as Brooklyn Dodger's exec Branch Rickey and the relatively unknown Chadwick Boseman as Robinson, the film is a riveting and hugely entertaining account of Robinson's personal and professional battles with peers, colleagues and the general public who were unwilling to accept an African-American ballplayer in the Major Leagues in 1940's America.  Boseman is a revelation as Robinson and Ford chews up the scenery as Rickey along with Christopher Meloni (Law and Order: SVU, Oz) who is a standout as Dodger manager Leo Durocher and a great supporting cast including Alan Tudyk and John C. McGinley.   Brian Helgeland (screenwriter of L.A. Confidential, Mystic River & Man on Fire) directs from his own script.
The film obviously had major crossover appeal beyond male sports-enthusiasts due to its civil rights and family-oriented themes along with a strong love story between Robinson and his wife.  As such, the Warner Bros./Legendary Pictures release should continue to be a solid performer in the coming weeks.
RELATED: '42' & 'Scary Movie 5' Set for Box Office Doubleheader!
The Weinstein Co.'s Dimension genre label released the fifth installment of the Scary Movie franchise and managed a franchise low debut of just $15.1 million.  On the plus side is that with over $800 million in worldwide box office, the franchise has been a profit center for the distributor since its first installment was released in year 2000.  Opening weekend's have ranged from a high of $48.1 million for 2003's Scary Movie 3 to a low of $20.5 million for the second installment, so this one is at the bottom end.
Holdovers rounded out the Top 5 as Fox's animated family hit The Croods in its fourth weekend is still performing well with a third place finish of $13.2 million and $142.5 million to date.  In fouth place, Paramount/MGM's G.I. Joe: Retaliation grabbed another $10.8 million this weekend with $102.4 million to date and Sony/Tri-Star's horror hit and last weekend's number one movie Evil Dead came in fifth with $9.5 million against a 63% drop (typical for the horror genre) and $41.5 million to date.
The incredible 3-D re-release of 1993's Jurassic Park which performed well last weekend and set records for IMAX chewed off another $8.8 million for sixth place and an impressive $31.9 million after ten days in theaters.
Notably, Focus Features Ryan Gosling, Bradley Cooper drama The Place Beyond the Pines had a strong first expansion adding 484 theaters for a total of 514 and a tenth place finish with $4.079 million (a 480% boost over last weekend) an impressive per-theater average of $7,937 and $5.45 million thus far.
The Summer Movie season looms large on the not-too-distant horizon with the debut of Disney/Marvel's Iron Man 3 on May 3 and it comes not a moment too soon with YTD revenues running 11.22% behind 2012 at this point.