'42' & 'Scary Movie 5' Set for Box Office Doubleheader!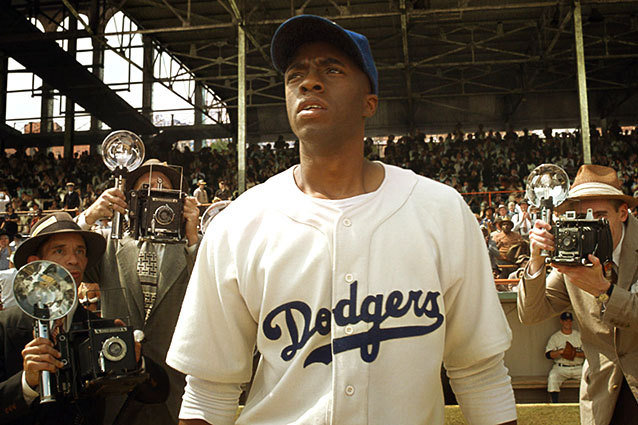 42, the inspiring true life story of baseball icon Jackie Robinson will step up to the box office plate this weekend in 3003 theaters with a real shot at a swing for the fences number one debut.  Starring Harrison Ford as Brooklyn Dodger's exec Branch Rickey and the relatively unknown Chadwick Boseman as Robinson, the film is a riveting and hugely entertaining account of Robinson's personal and professional battles with peers, colleagues and the general public who were unwilling to accept an African-American ballplayer in the Major Leagues in 1940's America.  Boseman is a revelation as Robinson and Ford chews up the scenery as Rickey along with Christopher Meloni (Law and Order: SVU, Oz) who is a standout as Dodger manager Leo Durocher and a great supporting cast including Alan Tudyk and John C. McGinley.   Brian Helgeland (screenwriter of L.A. Confidential, Mystic River & Man on Fire) directs from his own script. 
The film has major crossover appeal beyond male sports-enthusiasts due to its civil rights and family-oriented themes along with a strong love story between Robinson and his wife (played by a stunning Nicole Beharie).  An expected gross in the $17 to $19 million range is on deck (though we are root, root, rooting for a $20 million plus number) for the Warner Bros./Legendary Pictures release with solid word-of-mouth giving the film a likely strong boost on Saturday and an expectation of a number one debut by the bottom of the ninth on Sunday night.
Of course there will be competition for first place in the $15 to $18 million range with the opening of a very different type of film aimed at the teen audience as The Weinstein Co.'s Dimension genre label releases the fifth installment of the Scary Movie franchise.  With over $800 million in worldwide box office, the franchise has been a profit center for the distributor since its first installment was released in year 2000.  Opening weekend's have ranged from a high of $48.1 million for 2003's Scary Movie 3 to a low of $20.5 million for the second installment, so this one is on the low side, but still impressive for a fifth go 'round.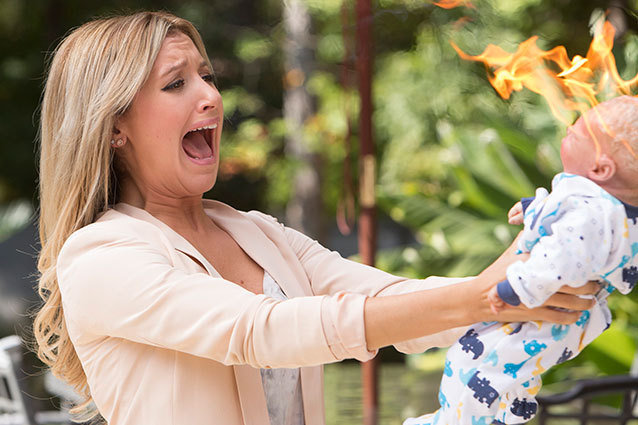 This will leave holdovers including Fox's animated family hit The Croods in its fourth weekend (expected to hold strong with a gross in the low teens and around $135 million by the end of the weekend), Paramount/MGM's G.I. Joe: Retaliation (with around $11 million expected for its third weekend and a possible shot at crossing the $100 million mark by Sunday night) and Sony/Tri-Star's horror hit and last weekend's number one movie Evil Dead ($10 million likely for the weekend and around $40 million total by late Sunday) to round out the Top 5.
Also keep an eye out for the incredible 3-D re-release of 1993's Jurassic Park which performed well last weekend, set records for IMAX as well and continues in 2,778 theaters nationwide.
RELATED: 'Evil Dead' Kills the Box Office With Strong Debut!
The Summer Movie season looms large on the not-too-distant horizon with the debut of Disney/Marvel's Iron Man 3 on May 3 and it comes not a moment too soon with YTD revenues running 11.36% behind 2012 at this point.
[Photo Credit: Warner Bros./Dimension]