Box Office: Appetite for 'The Hunger Games' is Ravenous!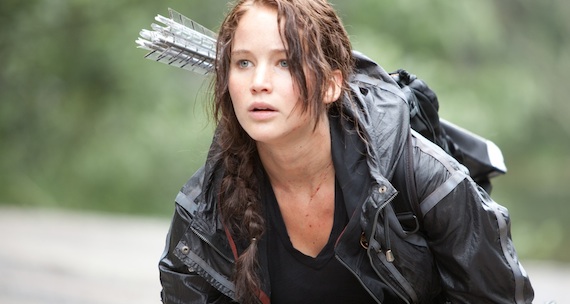 Talk about a great first day! Lionsgate's futuristic epic The Hunger Games earned a whopping $68.25 million on its opening day—landing it a spot among the five best single day movie grosses ever, according to Paul Dergarabedian, President of Hollywood.com Box Office. "The film totally lived up to the promise of the huge prerelease expectations as great word of mouth, solid reviews and positive social media buzz is fueling incredibly strong box office for the film."
The film, which stars Jennifer Lawrence, Josh Hutcherson, and Liam Hemsworth, is set in the future and follows a pair of teenagers (Lawrence) and (Hutcherson) as they are pitted against other young adults in a televised fight to the death.
The other movies to top Hunger Games in single day sales are also book adaptations, Harry Potter and the Deathly Hallows, Part 2 and the Twilight series, however The Hunger Games posted the best first day gross ever for a non-sequel. By Sunday night the film is expected to gross around $140 million—enough to make it one of the top 5 best opening weekends of all-time!
Another title it claimed is the biggest IMAX domestic opening day of 2012, with $4.4 million in ticket sales.
Coming in a distant second behind the Suzanne Collins book adaptation was Sony's R-rated action comedy 21 Jump Street in its second weekend. The TV remake starring Channing Tatum and Jonah Hill, earned an estimated $6.25 million on Friday, down 53% from the previous Friday, but should take in roughly $19 million by the end of the weekend. Overall business will be up by a huge margin vs. the same weekend a year ago as the box office of 2012 continues its winning ways.