Box Office: 'Brave' to Top 'Madagascar 3'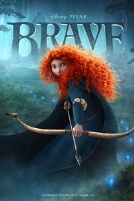 Pixar and Disney will continue their perfect box office track record with the debut of their 13th release Brave in 3D featuring the voices of Kelly Macdonald as Merida as well as Billy Connolly, Emma Thompson, Julie Walters and Robbie Coltrane.
An expected $60 million this weekend will give Pixar its 13th consecutive number one debut as it remains one of the most consistent and enduring movie brands in box office history. Set against the historic backdrop of the Scottish highlands, the PG-rated film is Pixar's first foray into fairy tale territory and certainly is reminiscent of 
The Hunger Games
 with its female protagonist wielding a bow and arrow. The Pixar films have been wildly successful earning $7.2 billion theatrical worldwide since the first "Toy Story" film opened with $29.1 million way back in 1995.
Second place with a gross in the high teens will likely go to Paramount Pictures PG-rated Madagascar 3: Europe's Most Wanted (read the review) from Dreamworks Animation which held onto first place for its first two weekends. The film will obviously find itself facing much competition in the form of the first place movie, but no matter as the 3D family favorite is already a certified worldwide hit with $300 million in the bank and around $135 million in total North American dollars as it heads into its third weekend. The film features the voices of Ben Stiller, Chris Rock and Jada Pinkett-Smith and should have around $155 million in North America by Sunday night.
Casting historical figures as action heroes has become an increasingly common theme as Fox brings Abraham Lincoln: Vampire Hunter to 3,106 theaters this weekend with an expected $15 to $16 million debut. The R-rated action fantasy stars Benjamin Walker as Lincoln as we have never seen him before in the role of a badass vampire killer hell bent on preventing the bloodsuckers from taking over The United States. Timur Bekmambetov, directs in his singular visual style so evident in 2008's action crime thriller "Wanted" starring Angelina Jolie and the vampire-themed films "Night Watch" and "Day Watch" released in 2004 and 2006.
Fox's sci-fi horror film Prometheus from acclaimed director Ridley Scott has been a certified R-rated sci-fi hit with nearly $100 million in North America since its release on June 8. With an impressive ensemble cast featuring Michael Fassbender, Noomi Rapace and Charlize Theron, a likely third weekend gross of close to $10 million will push it beyond the century mark in North America and into the mid-$200 million range worldwide by the end of the weekend.
Steve Carell and Keira Knightley make their debut this weekend in 1,618 theaters in the quirky R-rated dark comedy Seeking a Friend for the End of the World from Focus Features. With an asteroid hurtling toward Earth, Carell ventures off along with his neighbor (Knightley) to reunite with his high school sweetheart and the film chronicles their misadventures as the impending doom approaches. Lorene Scafaria who wrote the screenplay for 2008's "Nick and Norah's Infinite Playlist" makes her directorial debut for the film that could earn in the single-digits and possibly higher if solid word-of-mouth takes over.
This leaves both Warner Bros. PG-13 musical Rock of Ages and Sony's R-rated That's My Boy to try to make their mark in their second weekends after rather soft debuts last week.
This will likely be the second "down" weekend vs. the comparable frame a year ago when Pixar's' "Cars 2" led the weekend with $66.1 million and "Bad Teacher" opened with $31.6 million.