'Despicable Me 2' & 'The Lone Ranger' Lead Fourth-Of-July Weekend Box Office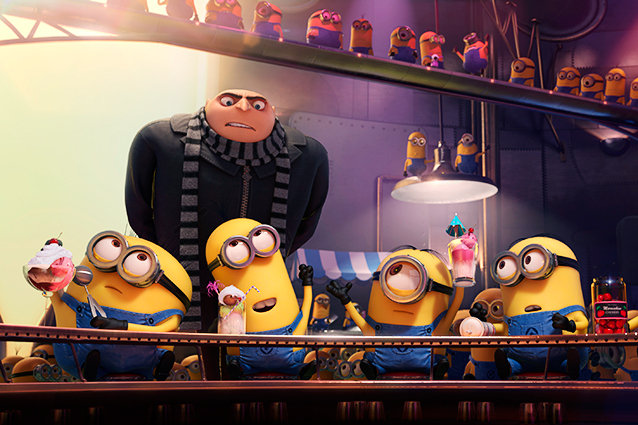 Fourth-of-July always fuels an interesting summer holiday weekend, particularly since it is a floating holiday that can land on any day of the week and this year was no exception.
Despicable Me 2 had un-minion sized debut this weekend, grossing an estimated $293.2 million worldwide! In North America with $142.1 million, Despicable Me 2 posted the biggest five day opening for an animated film and the top three day animated opening in July earning $82.5 million. Overseas, the film grossed an estimated $88.8M at 6,849 dates in 45 territories for the weekend. The early international total through Sunday is $151.1M.  This box office total is more than double Despicable Me's gross of $71.2M in the same amount of days in these same 45 territories.  DM2 is performing at the same level as such megahits as Toy Story 3, Ice Age 4, Madagascar 3 and Shrek 4.
Landing in second place is the big budget action-packed western The Lone Ranger which despite the star power of Johnny Depp, the leading man presence of Armie Hammer and a built-in brand name managed a five day gross of just $48.9 million and a three day (F-S-S) gross of only $29.4 million. This was a tough weekend for the big budget Western, but a CinemaScore of B+ could help it reagin some steam in the coming days and weeks.
Fox's hit R-rated comedy The Heat continues to kick butt dropping just 37% in its second weekend and taking the third spot with an arresting $25 million and $86.4 million to date.
Disney's two-week champion Monsters University which has been a seemingly unstoppable force in the marketplace had another solid weekend with a fourth place finish earning $19.6 million and easily crossing the $200 milion mark in North America.
Rounding out the Top 5, Paramount's Brad Pitt action zombie yarn World War Z also made its mark in its third weekend with $18.2 million against a modest 39% drop and $158.7 million in North America thus far.
Impressively, Summit/Code Black Entertainment's comedy performance film Kevin Hart: Let Me Explain in a mere 876 theaters had a terrfic week laughing all the way to the bank with $17.5 million since its Wednesday debut.
This very strong slate of current hit films has propelled the year-to-date box office to $5.7 billion and now stands just 1.2% behind last year's revenues at this point.
Top Movies for Weekend of July 5 – July 7 (Estimates)
Rank     Movie     Gross     Theaters     Avg.Per     YTD     Distributor
01     Despicable Me 2     $82.518M     3,997     $20,645     $142.1M     Universal
02     The Lone Ranger     $29.4M     3,904     $7,539     $48.9M     Disney
03     The Heat     $25.0M     3,184     $7,852     $86.4M     Fox
04     Monsters University     $19.6M     3,739     $5,239     $216.1M     Disney
05     World War Z     $18.2M     3,316     $5,489     $158.7M     Paramount
06     White House Down     $13.5M     3,222     $4,190     $50.5M     Sony
07     Man of Steel     $11.4M     2,905     $3,929     $271.2M     Warner Bros.
08     Kevin Hart: Let Me Explain     $10.1M     876     $11,530     $17.5M     Summit/Lionsgate