'G.I. Joe' Tops Easter Box Office with $41.2 Million!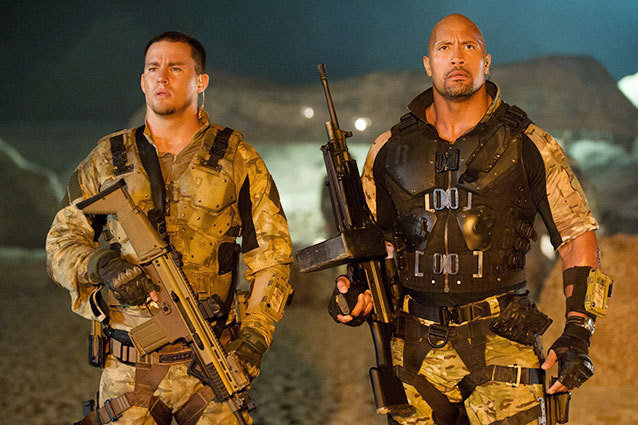 Paramount's  G.I. Joe: Retaliation tops Easter weekend with a solid $41.2 million domestically for the weekend and $51.7 million since its Thursday debut.  IMAX at almost $5 million domestically for the weekend & a little over $7 million globally on digital only screens (303 dom/78 int'l screens).  Overall, the film earned $80.3 million internationally (53 territories) for a global debut of $132.0M since Thu. (biggest Int'l debut of 2013).
Last weekend's number one film The Croods from Fox and Dreamworks Animation has been performing like a caveman on steroids during the mid-week derby taking in a whopping $5 million on Tuesday alone.  In the wake of a solid $43.6 million debut, the film earned an impressive $26.5 million in this its second weekend with nearly $90 million in N. America to date.
Mr. Box Office Consistency, Tyler Perry to takes third place with the debut of Lionsgate's Tyler Perry's Temptation with a gross of $22.3 million.  With a loyal following and solid fanbase, director Perry's box office performance is always assured and his films are profitable time after time.  Women were the target for this nicely counter-programmed alternative to G.I. Joe.
Olympus Has Fallen from FilmDistrict grabbed the fourth spot with $14.0 millin in its second weekend dropping 54% and boasting a cume to date of nearly $55 million.  Olympus earned about $10 million more than anyone expected in its debut last weekend and even the mid-week numbers were strong with over $3 million on Tuesday alone. 
Disney's Oz the Great and Powerful rounded out the Top 5 with $11.6 million in its fourth weekend of release as it impressively nears the $200 million mark in North America.
Opening in sixth place, Twilight's Stephenie Meyer latest effort The Host starring Saoirse Ronan earned a quiet $11 million.  The PG-13 romantic adventure will drew mainly teen girls, but not in the numbers expected.
It was a solid Easter weekend though year-to-date revenues are still lagging 12% behind last year, but it seems that we are starting to see some momentum kicking in at the box office as we head toward the start of the summer movie season in about a month…and that's good news!