'Iron Man 3' Crushes Weekend Box Office with $175.3 million!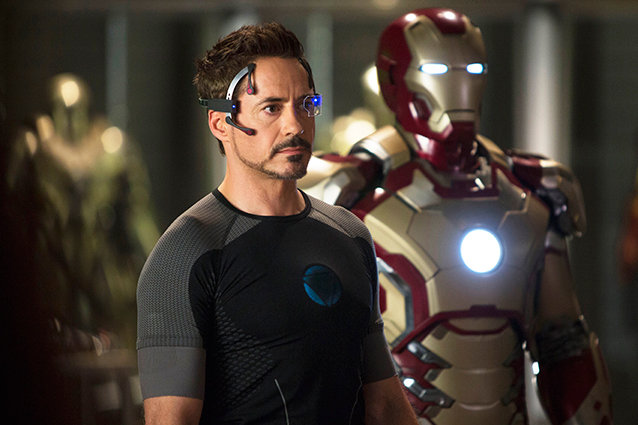 Well the opening weekend speculation is over and the numbers are in!  Disney's Iron Man 3 posted a massive $175.3 million opening weekend in North America in 4,253 theaters and in the process becomes the second biggest debut in industry history behind only Marvel's The Avengers $207.4 million debut exactly a year ago.  Credit must go to a great marketing campaign, international numbers that fueled excitement around the world and most imortantly Robert Downey, Jr. whose indelible portrayal of Tony Stark/Iron Man is the spark that ignites the Marvel universe.  Internationally the film has earned $504.8 million for a global total of $680.1 million after just 12 days in release!
We've got a bunch of stats for you and first up is IMAX whose very enviable problem was not enough seats for the huge demand for Iron Man 3 in the giant screen format. 
Here's what the folks at IMAX had to say:
Thanks to IRON MAN 3, this weekend is a global IMAX record, as we'll generate nearly $30 mil from one movie for the first time in our company's 46 year history ($16.5 mil domestically and $13 mil internationally).  The global cume for IRON MAN 3 in IMAX is estimated to be $40.2 mil as of Sunday evening.
 
Dometically, IM3 delivered $16.5 mil on 326 screens for a fantastic per screen average of $50,600 (remember, we're single screen business).  Our biggest issue: the vast majority of our shows were sold out. This is the the 2nd best domestic opening in IMAX history.
 
Internationally, IRON MAN 3's IMAX results produced numerous records, generating approximately $13 mil this weekend on 267 IMAX screens for an outstanding per screen average of almost $50k.  Again, sell out shows everywhere! This is made all the more encouraging considering over 100 of the screens were on their second weekend of the film, confirming IRON MAN 3's word of mouth is strong.
 
There were record smashing IMAX openings in key territories, including China ($63k per screen), Russia ($72k per screen) and Ukraine ($46k per screen).
 
Now on to the big interntional story and some great information courtsey of Walt Disney Motion Pictures:
MARVEL'S IRON MAN 3 is projected to gross an estimated $175.3 million in its domestic debut, positioning it as the second-highest grossing debut of all time behind Marvel's The Avengers.
 
IRON MAN 3 will cross the $600M global box office threshold today after just 12 days of release, with an estimated global cume of $680.1M.
 Internationally, IRON MAN 3 has earned an estimated $504.8M.  Disney has now crossed the $1B threshold at the international box office for 2013, the fastest the Studio has reached this milestone and the 19th consecutive year that Disney has crossed $1B at the international box office.
 
MARVEL'S IRON MAN 3 (Marvel):
DOMESTIC WKND ESTIMATE (May 3-5): $175.3M at 4,253 locations. Weekend theater average: $41,218.
•       Single-day estimates: $68.3M Friday (including Thursday night shows), $62.2M Saturday, $44.8M Sunday.
 
INTERNATIONAL WKND ESTIMATE (May 3-5):        $175.9M
MARVEL'S THE AVENGERS is currently in release in 54 territories representing 100% of the international market.
 
ESTIMATED DOMESTIC CUME:                                 $175.3 MILLION
ESTIMATED INTERNATIONAL CUME:                      $504.8 MILLION
ESTIMATED GLOBAL CUME:                                    $680.1 MILLION
 
International Highlights:
•        Iron Man 3 has passed the total global box office of Iron Man ($585M), Iron Man 2 ($624M), Thor ($449M), and Captain America ($369M).  
•        Internationally, Iron Man 3 has passed the total international box office of Captain America ($192M), Iron Man ($267M), Thor ($268M) and Iron Man 2 ($312M).   
•        Biggest opening day of all time in China, Russia, Taiwan, Philippines, Singapore, Vietnam, Malaysia, Thailand, South Africa, Ukraine.
•        Biggest opening weekend of all time in Asia Pacific and Latin America regions.
•        Biggest opening weekend of all time in Argentina, Hong Kong, Indonesia, Vietnam, Taiwan, Philippines, Malaysia, Singapore , Thailand, South Africa, UAE.
•        Biggest Marvel opening weekend in China, Australia, Sweden, Norway, Denmark, Netherlands, Finland, Hungary, Romania, New Zealand, Argentina, Hong Kong, Indonesia, Vietnam, Taiwan, Philippines, Malaysia.
 
Performance to date – key territories
            
China        $63.5M    
Korea        $42.6M    
UK        $38.3M    
Mexico        $35.8M    
Brazil        $30.1M    
Australia        $28.4M    
France        $27.8M    
Russia        $21.7M    
Italy        $17.4M    
Japan        $16.4M    
Taiwan        $15.1M    
Philippines        $12.3M    
Indonesia        $10.6M    
HK        $10.5M    
Malaysia        $10.5M    
Germany        $10.0M    
Other        $113.8M    
Total        $504.8M   
Believe it or not there were actually other movies in theaters this weekend and here is the breakdown:
1. Iron Man 3 – $175.3 M/Weekend 1
2. Pain & Gain – $7.6M/$33.9M – Weekend 2
3. 42 – $6.2M/$78.3M – Weekend 4
4. Oblivion – $5.8M/$76M – Weekend 3
5. The Croods – $4.2M/$168.7M – Weekend 7