'The Heat' is strong & 'Monsters University' Tops Box Office for Second Weekend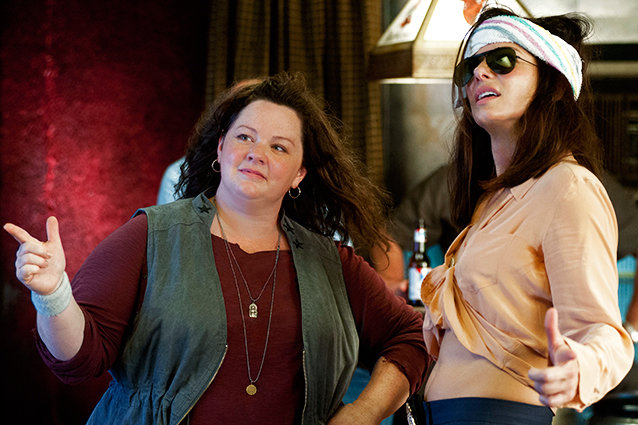 Two newcomers faced off against Pixar/Disney's animated G-rated juggernaut Monsters University, but the family audience propelled the cute and cuddly monster students to a second weekend at number one with $46 million and over $170 million after just 10 days in theaters. This despite plenty of competitors in the marketplace and lots of star power being thrown into the mix with the debut of the rarest of all movie genres, the female buddy cop movie as realized by Sandra Bullock & Melissa McCarthy's in Fox's R-rated comedy The Heat along with Channing Tatum & Jamie Foxx in the PG-13 non-stop action yarn White House Down from Sony.
Monsters University continued the tradition of low second weekend drops that Pixar films typically enjoy (27% for Monsters, Inc. – 34% for Finding Nemo – 44% for Cars – 35% for Up) and even with a 44% drop, that translated to a $46 million weekend and an assured first place finish.
The Heat beat the weekend projections of a high $20 million debut by a long shot, coming on strong in pre-release tracking and nailing a $40 million debut! Strong word-of-mouth, solid reviews and of course the genius casting of the two leads led to this stellar box office performance.
Of course Brad Pitt did not take this lying down and even with a 55% second weekend drop, World War Z enjoyed a $29.8 million performance that gave it a solid third place finish. Strong mid-week grosses suggested that audiences are enjoying the movie and telling their friends as well and the film easily crosses the $100 million mark in North America with a cumulative gross to date of $123.7 million.
The second wide release making its debut is White House Down which earned an as expected $25.7 million for a fourth place finish. The film stars Jamie Foxx as the President of the United States and Channing Tatum as a Secret Service agent candidate who find themselves in a White House under siege action thriller. Independence Day director Roland Emmerich hasn't lost his touch for creating an effective and taut action movie and the chemistry between the leads adds to the fun.
Warner Bros.' Man of Steel is of course a factor in all of this action taking in $20.82 million in its third weekend of release thus pushing its domestic total closer to $250 million by Sunday night.
Late breaking global box office news on Man of Steel from Warner Bros.: After flying into the record books in its opening, Warner Bros. Pictures' and Legendary Pictures' "Man of Steel" continues to soar at the box office.  The film crossed the $500 million mark on Saturday, June 29.  The announcement was made today by Warner Bros. Pictures President of Domestic Distribution, Dan Fellman, and President of International Distribution, Veronika Kwan Vandenberg.
The film has earned $248.7 million domestically, and $271.7 internationally, for a worldwide total of $520.4, to date.  "Man of Steel" opened at the top of the box office in the U.S. and Canada, with the biggest June release ever.  The film opened at number one in manyinternational territories, and continues its roll out with record-breaking bows.  The film is still to open in Brazil and Japan.
The film continues to set records worldwide in IMAX® theatres, where it has earned an estimated $27 million domestically and $18.9 million internationally, for a worldwide total of $45.9 million.
This week Fourth-of-July sparkles with the debuts of Despicable Me 2 from Universal and The Lone Ranger from Disney both opening on Wednesday, July 3.
Top Movies for Weekend of June 28 – June 30 (Estimates)
Rank     Movie     Gross     Theaters     Avg.Per     YTD     Distributor
01     Monsters University     $46.18M     4,004     $11,533     $171.0M     Disney
02     The Heat     $40.0M     3,181     $12,575     $40.0M     Twentieth Century Fox
03     World War Z     $29.8M     3,607     $8,262     $123.7M     Paramount
04     White House Down     $25.7M     3,222     $7,976     $25.7M     Sony
05     Man of Steel     $20.82M     4,131     $5,040     $248.66M     Warner Bros.