'Monsters University' Makes it 14 In A Row for Pixar & 'WWZ' Gives Pitt Best Career Debut!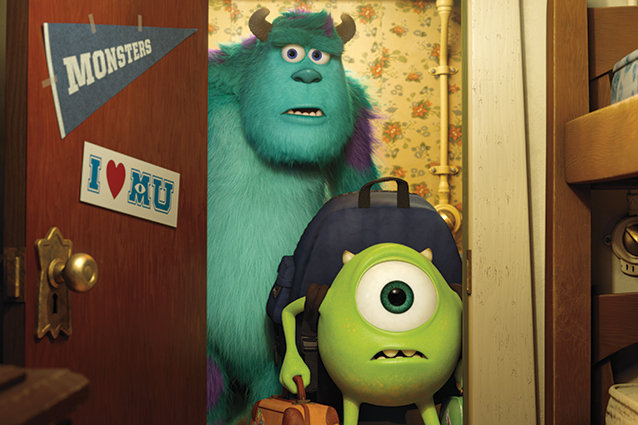 The Pixar/Disney animated films represent one of the most consistently performing movie brands in history and who can argue? Now 14 films, 14 number one debuts, $3.4 billion in domestic box office, $7.9 billion in worldwide box office spanning a 18 year period since the first Toy Story film opened in theaters over the Thanksgiving holiday in 1995. This weekend continued this "pixar perfect" track record as the prequel to 2001's Monsters, Inc. (which had a $62.57M opening weekend), the aptly titled Monsters University earned a massive $82 million and in the process added some new box office milestones:
HIGHLIGHTS:
* MONSTERS UNIVERSITY debuted at #1 this weekend, maintaining Pixar's perfect record with 14 of 14 features opening #1 in wide release.
* 2nd highest June animation opening in industry history behind Toy Story 3.
* 2nd highest June opening in Disney history behind Toy Story 3.  
* 2nd highest Pixar opening behind Toy Story 3.  
* 8th highest opening in Disney history.
It was a great weekend for Brad Pitt as Paramount's much-discussed World War Z made its debut in 3607 theaters and a much better than expected $66 million. This is Pitt's biggest opening weekend ever ahead of his previous career high of $50.3 million for Mr. and Mrs. Smith. Marc Forster (Quantum of Solace, Monster's Ball) helms the taut and intense PG-13 action vehicle based on the book by Max Brooks and really delivers the goods. This despite a slew of press reports over the past several months taking the film to task for its budget (reportedly over $170 million), delays and re-shot endings. The film earned over $100 million worldwide this wekend with $45.8 million coming from the international marketplace.
Third place goes to Warner Bros.' massive Superman hit Man of Steel, which has already banked an impressive $210 million in North America after just 11 days of release. A 65% second weekend drop enabled the film to add $41.2 million to its impressive earnings. Playing on exactly 600 worldwide IMAX screens, the global weekend performance of Warner Bros.' MAN OF STEEL delivered a robust $11.3 mil in the IMAX network, which includes an outstanding $3.2 mil opening weekend on China's IMAX screens (the IMAX percentage of MOS' box office in China is extremely strong, representing 12.5% of the country gross). Global IMAX MOS box office cume as of Sunday evening is estimated to be nearly $35 mil in less than 2 weeks of release.
Sony's This is the End had a great second weekend hold of 37% earning $13 million and nearly $60 million after just 12 days of release. Lionsgate's Now You See Me continues to draw audiences as well in its fourth weekend with a tiny 29% drop and $7.87 million for the weekend and $94.5 million to date. This was yet another solid weekend at the summer box office with three films earning over $40 million at the nation's theaters.
Top Movies for Weekend of June 21 – June 23 (Estimates) – 3 films over $40 million!
Rank     Movie     Gross     Theaters     Avg.Per     YTD     Distributor
01     Monsters University     $82.0M     4,004     $20,480     $82.0M     Disney
02     World War Z     $66.0M     3,607     $18,298     $66.0M     Paramount
03     Man of Steel     $41.2M     4,207     $9,797     $210.0M     Warner Bros.
04     This Is The End     $13.0M     3,055     $4,255     $57.8M     Sony
05     Now You See Me     $7.9M     2,823     $2,788     $94.45M     Lionsgate
---
From Our Partners


Stars Pose Naked for 'Allure' (Celebuzz)


20 Grisliest TV Deaths of 2012-2013 (Vulture)