Oscars Box Office: Best Picture Nominees Get a Nice Boost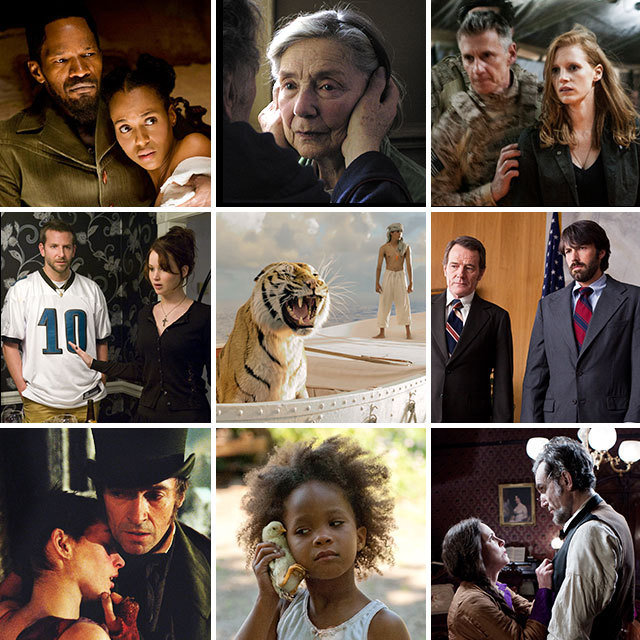 The Oscar boost or bounce (or whatever you want to call it) was in full effect for this year's crop of nine nominees for Best Picture with all enjoying post-nomination increases in box office. 
In fact, over Oscar weekend they were all represented in the Top 30 performers in theaters: Silver Linings Playbook (no. 7 – $107.2M thru 2-24), Zero Dark Thirty (no. 11 – $91.5M thru 2-24), Argo (no. 12 – $129.6M thru 2-24), Life of Pi (no. 14 – $113.5M thru 2-24), Lincoln (no. 15 – $178.6M thru 2-24), Django Unchained (no. 18 – $158.8M thru 2-24), Amour (no. 19 – $5.1M thru 2-24) Les Miserables (no. 21 – $146.7M thru 2-24), and Beasts of the Southern Wild (no. 28 – $12.57M thru 2-24).
Furthermore, each of the nine nominees saw impressive percentage increases in box office since the day before nominations were announced on Thursday, January 10 through Monday, February 25 with Zero Dark Thirty (a 1,663% increase) and Amour (a 1,266% increase) realizing enormous boosts in that time period.  (Keep in mind though that each of the cinematic horses in this race had different trajectories due to different releases dates and varying release patterns.)
This year's group in particular benfitted from facing little competition from the brand new 2013 releases which have not exactly set the world on fire and thus were thus able to remain in the thick of the box office fight.  This is truly reflected in the cumulative revenues of the nominees since the nominations: a whopping $325.1 million!
RELATED: Box Office: 2013 Off to a Slow Start
Compare this with last year (when The Artist took the prize) and a collective box office bump of $111.1 million was realized for the nine nominees.  Other comps include 2010's crop (when The King's Speech won) which saw a bump of $198.1 million and 2009's crop (the year of The Hurt Locker's win for Best Pic and box office mega-hit Avatar) pulling an additional $203.6 million from the time of nominations through final gross.
Just one look at the chart below shows why studios spend millions on their Oscar campaigns and why for a film that might otherwise find its fortunes fade prematurely, an Academy Award nomination can breath new vitality (and a lot of extra money!) into its life.
HOLLYWOOD.COM BOX-OFFICE – BEST PICTURE NOMINEES AND THEIR OSCAR BOUNCE                
Legend: 1. Gross Through Day Before Noms  2. Current Domestic Gross (thru 2-25-13)  3. Oscar Bump in $  4. Percent Growth Since Noms
ZERO DARK THIRTY    1- $5,202,671    2- $91,721,967    3- $86,519,296    4- 1663%
AMOUR    1- $381,277    2- $5,207,000    3- $4,825,723    4- 1266%
SILVER LININGS PLAYBOOK     1- $35,737,770    2- $107,737,360    3- $71,999,590    4- 201%
DJANGO UNCHAINED    1- $112,462,679    2- $158,911,989    3- $46,449,310    4- 41%
LES MISERABLES    1- $107,684,800    2- $146,786,985    3- $39,102,185    4- 36%
LIFE OF PI (3-D)    1- $91,796,135    2- $113,800,798    3- $22,004,663   4-  24%
LINCOLN    1- $145,542,887    2- $178,721,708    3- $33,178,821    4- 23%
ARGO    $110,106,919    $129,879,806    $19,772,887    18%
BEASTS OF THE SOUTHERN WILD    1- $11,249,128    2- $12,572,085    3- $1,322,957    4- 12%
GROUP TOTALS: total gross before noms-$620,164,266    total gross since noms-$945,339,698 Oscar Bump-$325,175,432