Box Office Preview for Memorial Day Weekend May 28, 2010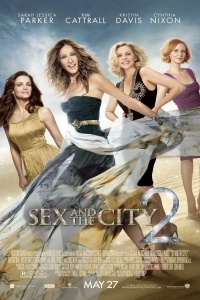 A little pre-weekend "Sex" as the ladies of "Sex and the City" follow up on the hugely successful 2008 big-screen installment of the beloved HBO series.  That film opened with $56.8 million and wound up with $152.6 million domestically and holds the record for the biggest opening weekend ever for an R-rated comedy. Warner Bros.' "Sex and the City 2" will have the benefit of a five-day opening frame starting on Thursday and having the holiday weekend including Monday to make its mark on the industry.  Almost like "Star Wars" for women, the series and the films have generated a rabid following of female fans all over the world.  With a great marketing campaign and scores of women who relate in some way to at least one of the main characters, the movie is tailor-made to draw the all-important female audience in loyal and excited groups of movie-goers.  On-line sales show 50% of tickets have been sold in blocks of four tickets or more and that indicates the fact that the film will become the cornerstone for the classic "ladies night out" that should see many local bars noticing a huge upsurge in sales of cosmos all weekend long.  Directed by Michael Patrick King and starring Sarah Jessica Parker, Kristin Davis, Cynthia Nixon, and Kim Cattrall, look for "Sex and the City 2" to perform well this weekend.
In a classic counter-programming move, Disney offers up yet another film set with the desert as a background.  So while the ladies of "SATC2" travel to Abu Dhabi, Jake Gyllenhaal becomes the "Prince of Persia" in this adaptation of the video game, and as produced by Jerry Bruckheimer this becomes a larger-than-life summer popcorn movie.  Directed by Mike Newell ("Harry Potter and the Goblet of Fire"), the film also starring Gemma Arterton will look to draw males looking for an action epic they can call their own and will capitalize on the extended weekend to boost its box-office prospects.
We need a strong weekend since the summer season thus far has been somewhat soft.  With momentum being a key factor in the continued success of this all-important timeframe, we need both the Prince of Persia and Carrie Bradshaw and her friends to get us back on track.  Of course "Shrek," "Iron Man 2" and "Robin Hood" will continue to bolster the fortunes of the marketplace and launch us strongly into the month of June (which is a very important transitional month) and puts us on the right track.
SEX AND THE CITY 2 (WARNER BROS.) – opens in 3,445 theaters on Thursday – rated R
PRINCE OF PERSIA: THE SANDS OF TIME (DISNEY) – opens in around 3,500 theaters on Friday – rated PG-13