Box Office to be hit by a 'Sucker Punch!'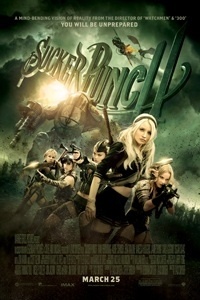 Two very different newcomers hit theaters this weekend with the very PG-rated family film follow up to last year's surprise hit Diary of a Wimpy Kid going up against the very PG-13-rated futuristic world of Warner Bros.' Sucker Punch.
Vying for bragging rights this weekend is the uber-stylish Sucker Punch from visionary director Zack Snyder who had success in bring both his Spartan-epic 300 and the hyper-kinetic reality of Watchmen to the big screen.  Both of those films debuted in first place and were also released by Warner Bros.  A terrific marketing campaign that featured a trailer that highlighted not only the collective beauty of its female stars including Aussie Emily Browning, High School Musical's Vanessa Hudgens and The Adjustment Bureau's Abbie Cornish, but also the music of Led Zeppelin , will have the fanboys and girls clamoring to see the film.  As always, IMAX will deliver additional visual as well as box office punch to the proceedings and a gross in the mid-$20 million range is likely for Sucker Punch.
Trying to prove that its no wimp at the box office, Diary of a Wimpy Kid: Rodrick Rules follows the further exploits of Rodrick and Greg Heffley as they deal with various humiliations and occasional triumphs of adolescent life.  The original film in the franchise opened about a year ago in second place (behind juggernaut Alice in Wonderland) with a solid $22.1 million and went on to earn $64 million domestically.  This installment has the potential for a gross in the high teens or even low twenties and should capitalize on the fact that it is the only live action family film in wide release in the marketplace.
America's freshly appointed leading man Bradley Cooper will see a modest drop this weekend for last weekend's number one film Limitless from Relativity Media and likely wind up with around $12 million for the weekend.  A surprisingly strong debut that caught many off guard proves that Hangover favorite Cooper is a box office draw in his own right.  Of course the presence of a terrific supporting cast including Robert De Niro and a solid marketing campaign did not hurt the films chances with audiences looking for a unique mind-bending thriller.
Paramount's animated Rango, will enter its fourth weekend with a lot of momentum having impressively secured a second place finish last weekend against a tiny 33% drop and a domestic gross that will eclipse $100 million this weekend.  A $10 million weekend is in store for this animated family film that remains a family favorite with kids, families and Johnny Depp fans alike.
For The Lincoln Lawyer, Lionsgate Films used a promotion with Groupon.com to solid effect last weekend with a fourth place debut of $13.2 million.  A solid second weekend hold is likely for the film which has generated strong word-of-mouth as demonstrated by a Friday to Saturday uptick of 37%.  Interestingly the film attracted 85% of its audience from those over 25 years of age and thus a $7 million to $9 million fifth pace performance is likely for the Matthew McConaughey starring vehicle.
The fifth consecutive down weekend at the box office is again likely with year ago comparisons giving us yet another sucker punch when How to Train Your Dragon had a $43.7 million debut and year-to-date revenue stood 8.90% ahead of 2009.