'Pain & Gain' to Take on 'Oblivion' at the Box Office
In his attempt to ensure that he has a movie released in almost every month of 2013, Dwayne Johnson hits the big screen again this weekend in Paramount's Pain & Gain in 3,277 theaters.  Thus far Johnson has appeared in February's Snitch, March's G.I. Joe: Retaliation and will next appear in May's Fast & Furious 6.  Johnson is quickly becoming the action movie go-to guy and will join Mark Wahlberg and Anthony Mackie in this weekend's R-rated, Michael Bay directed testosterone fest.  Expectations are for a gross of around $20 million and this will put the film on a collision course with last weekend's number one film, Universal's Oblivion starring Tom Cruise and Morgan Freeman.  The PG-13 sci-fi adventure debuted with a better-than-expected $37 million and has dominated mid-week moviegoing building a cash reserve of over $45 million in N. America as it heads into the weekend.  If Oblivion drops in the low 40% range it would wind up with $22 million in its second weekend and could therefore find itself in a tight matchup with Pain & Gain.  However, the advantage has to go to Wahlberg and Johnson as the newcomer chasing the male audience in this race.
SEE RELATED: 'Oblivion' Tops the Box Office, While '42' Slides Into Second
Third place will then go to another newcomer, The Big Wedding from Lionsgate which is expected to walk happily down the aisle in 2,633 theaters and wind up with a dowry in the low teen millions.  The R-rated comedy stars Robert De Niro, Diane Keaton, Amanda Seyfried, Katherine Heigl and an all-star ensemble cast that will have strong appeal to older audiences seeking something brand new that is aimed squarely at them and not young males.  With a fun premise and a solid marketing campaign this wedding should draw a nice crowd at the reception this weekend.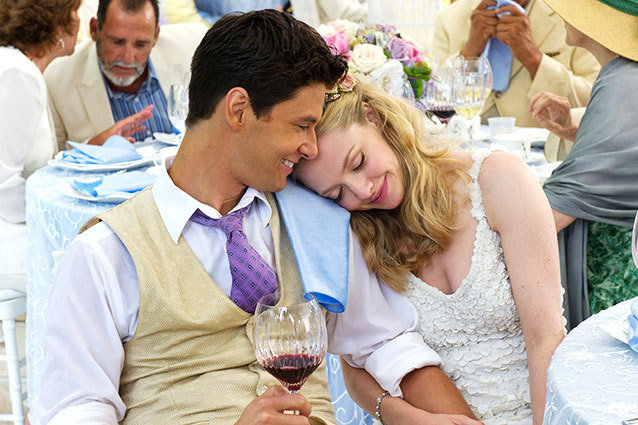 Fourth and fifth place will likely continue the one-two punch of Warner Bros.' excellent Jackie Robinson sports biopic 42, and Fox's ever-popular The Croods which has continued to take full advantage of the lack of family film competition in the marketplace.  42 could earn around $9 million and boost its revenues to close to $70 million by the end of the weekend while The Croods will remain impressive in its sixth weekend with over $6 million and a N. American total in the realm of $160 million by late Sunday.
Not to be left out is Focus Features' A Place Beyond the Pines which has shown enormous strength in its expanded release and has become a mid-week favorite jumping into the third place spot after finishing out last weekend in sixth place.  The Ryan Gosling, Bradley Cooper pairing combined with a powerful marketing campaign is making this film an indie hit as it adds another 42 theaters this weekend for a total of 1,584 as it climbs toward $20 million in revenue.
This is the final weekend before the official kickoff of the 2013 Summer Movie Season when Disney's Iron Man 3 opens Friday, May 3.  Luckily as of press time AMC Theaters has settled their dispute with Disney over a much-publicized battle over box office revenue splits for the film and though Regal and Cinemark have not yet worked out an agreement with Disney, the AMC deal bodes well for an agreeable settlement in the near future.
[Photo Credit: Paramount Pictures]