Box Office Wrap-up for Memorial Day Weekend May 28, 2010
Paramount/DWA's "Shrek Forever After" proves that families rule on Memorial Weekend.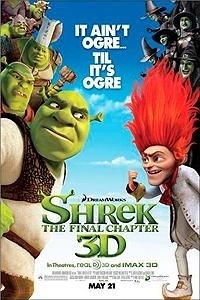 As Memorial weekends go this was no record-breaker, but with two big newcomers and the continued success of "Shrek," it showed that audinces still love to go to the movies over the extended holiday frame.   With another $43.3 million and 7% of that from IMAX showings, "Shrek Forever After" dropped only 39% and crossed the $100 million mark.  A very strong Saturday take of $16.975 million gave it the edge over the competition as families flocked to see the film with their kids as a Memorial treat.
At number two is Warner Bros.' "Sex and the City 2" the follow up to the first installment which debuted almost exactly two years ago.  After $3 million in midnights and a $14.2 million first day the film was off to a promising start.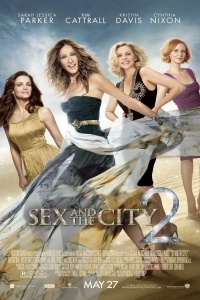 The weekend portion of the film for the F-S-S period is $32.1 million and a four-day (Thursday – Sunday) total of $46.3 million.
At number three is the other big newcomer from Disney and producer Jerry Bruckheimer, "Prince of Persia: The Sands of Time" starring Jake Gyllenhaal.  With $30.2 million for the three-day portion of the holiday weekend, the film offered a counter-programming option for those seeking a more summer-style action adventure than the female oriented "Sex and the City 2" or "Shrek Forever After."
At number four is Paramount's "Iron Man 2" which adds another $16 million this weekend and brings its total to $274.6 million as it attempts to reach for the $300 million mark.  A 39% drop in it its fourth weekend reflects strong interest by Memorial weekend theatre-goers.
Rounding out the Top Five is Universal's "Robin Hood" starring Russell Crowe.  The film directed by long-time collaborator Ridley Scott earned $10.3 million for the three days against a 45% drop.  With $83 million and counting, the film will take aim at hitting the $100 million bull's-eye in the coming weeks.
Outside of the Top Five but notable in its continued strength is Summit Entertainment's "Letters to Juliet."  The unsung hero of the summer continues slowly and quietly to draw audiences week after week and adding $5.9 million to its total and approaching the $40 million mark.
Another "down" weekend as the summer of 2010 continues to struggle to live up to the strength of last year's line-up and box-office performance.  All that and a potential log jam next weekend with four new wide release openers including Universal's "Get Him to the Greek," Warner Bros.' "Splice," Fox's "Marmaduke" and Lionsgate's "Killers."