Box Office Wrap-up for the Weekend May 21, 2010
Paramount/DWA's "Shrek Forever After" continues the franchise's tradition with a number one debut, but came in on the low end of expectations.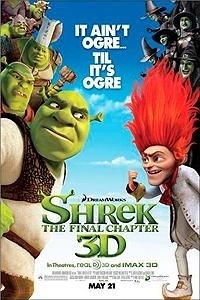 Perhaps a reflection of the rejection by families of the higher movie ticket prices currently being charged, there was a less "green" Shrek than expected with a $71.250 million debut.  The last installment, "Shrek the Third" had the biggest animated debut of all-time with $121.6 million and "Shrek 2" the second best animated opening with $108 million, thus expectations were running high for "Shrek Forever After."  IMAX once again proves its importance with $5 million or 7% of the weekend take.  Working to the film's advantage is a CinemaScore of "A" and a fairly wide open marketplace for the next few weeks.
At number two is of course Paramount/Marvel's "Iron Man 2" which grabbed another $26.6 million against a 49% third weekend drop and a cumulative domestic total of just over a quarter of a billion dollars.
At number three is last week's number one film in the world "Robin Hood" from Universal.  The film dropped 48% in its second weekend with $18.7 million and a domestic total thus far of $66 million.  The Ridley Scott film starring Russell Crowe offers a nice alternative to the other high-tech big budget summer films in the marketplace.
At number four is Summit Entertainment's lighthearted romance "Letters to Juliet" starring the Amanda Seyfried ("Mama Mia!," "Dear John," "Chloe"), "Juliet" earned a solid $9.1 million in its second weekend of release with a drop of just 33%.  The film's appeal may make it one of the bright spots of the early summer with its lack of technology, explosions, fist fights and shootings, and thus continues to have obvious appeal to the more sophisticated moviegoer.
The number five film feels "Just Wright" from Fox Searchlight with $4.2 million in its second weekend of release and a domestic cumulative of $14.6 million.
Universal's "MacGruber," based on the SNL character and starring Will Forte and Kristen Wiig, debuted at number six with $4.1 million.  The film, which was pushed heavily on the Betty White episode of Saturday Night Live a couple of weeks ago, had a very modest production budget of less than $10 million.  Relativity Media financed the film with Universal handling distribution.
Of course this was a "down" weekend when compared to last year when Memorial Weekend fell a week earlier and thus comparisons were tough and brought our YTD revenue advantage into the 5% range from the 7% range just three weeks ago.  Later this week the battle of the sexes will boost the box office back up with Warner Bros.' hotly-anticipated "Sex and the City 2" on Thursday and Disney's epic adventure "Prince of Persia" hitting theatres Friday for the extended Memorial holiday weekend.