Brad Bird and Damon Lindelof's Mystery Disney Project Now Titled 'Tomorrowland'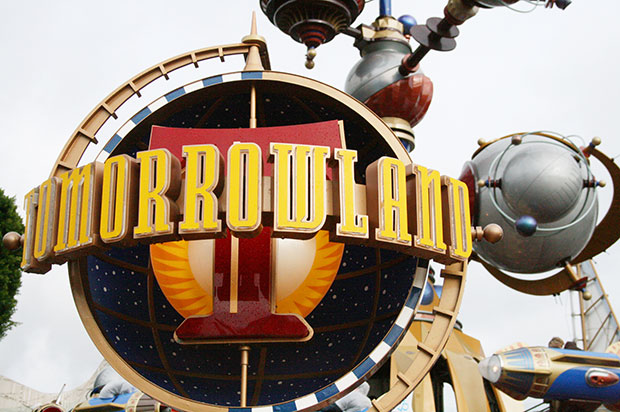 Pirates of the Caribbean is a billion dollar franchise. Tom Hanks and Tim Allen are reportedly heading on a Jungle Cruise. Jon Favreau has been trying to get a Magic Kingdom movie off the ground for years.
And that's just the beginning. The next park-inspired movie is taking shape? Tomorrowland.
While every movie studio in Hollywood is turning to video games, comic books, and toys for inspiration, Disney only has to look inward to its theme parks for adaptation potential. Most of the their homegrown projects are in early stages, but Tomorrowland is officially ramping up — and we've actually known about it for some time.
Last week, Mission: Impossible – Ghost Protocol and Ratatouille director Brad Bird tweeted a picture of a suitcase full of photographs, film reels, and folders — including some old snapshots of Walt Disney. The case was labeled "1952," the name of his mysterious new project currently in the works with Disney and writer Damon Lindelof (LOST, Prometheus). Turns out, that movie is actually Tomorrowland.
Hollywood.com has confirmed 1952's futuristic title change to Tomorrowland, which will star George Clooney and release on Dec. 19, 2014. Other that, details are scarce. The film was previously believed to be a science fiction film in the vein of Steven Spielberg's Close Encounters of the Third Kind — which could hold true, given the futuristic nature of the theme park. Was Disney's "Tomorrowland" built with alien technology? Is it a home base for a secret military rocket program? Will it be the place where Earth first makes contact, swapping out Third Kind's Devil's Tower, Wyoming, for a flashy theme park setting?
We'll have to keep digging into Bird's teasing Twitpic for answers, waiting patiently for Tomorrowland to beam us up in December of next year. As long as we don't go crazy imagining a movie version of Disneyworld.
Follow Matt Patches on Twitter @misterpatches
[Photo Credit: Dave Halberstadt/flickr]
More:
Brad Bird Tweets Pic That Inspired His Secret Movie '1952': What Is This Movie About?!
Brad Bird: Modern Action, IMAX and How the 'Simpsons' Informed 'Mission: Impossible'
'Upstream Color': Why the Geek World's Most Anticipated Film Deserves a Viewing (Or 8)

J. J. Abrams and 'Star Wars': Has the Lightsaber Been Passed to the Right Director?