Brad Bird Tweets Pic That Inspired His Secret Movie '1952': What Is This Movie About?!
1952. A year of political unrest, scientific progress, and mystery… okay, I have no authentic idea about what sort of political unrest or scientific progress might have been going on in 1952, but I'm sure the year fostered some relative form of each. Anyway, we're here to focus on the mystery — the burning questions surrounding that central point in the 20th century, and the developing big screen depiction thereof. For some time now, master filmmaker Brad Bird has been working on a top secret project titled 1952, the plot of which is yet unknown.
Until now, the only clue we've gotten so far about the developing Disney picture is that it's a science fiction in the vein of Steven Spielberg's classic Close Encounters of the Third Kind, and that Bird's creative team includes writers Jeff Jensen and Damon Lindelof and star George Clooney. But now, we get a much bigger hint (kind of) regarding what the genius behind The Iron Giant and Ratatouille has in store for us. The below picture: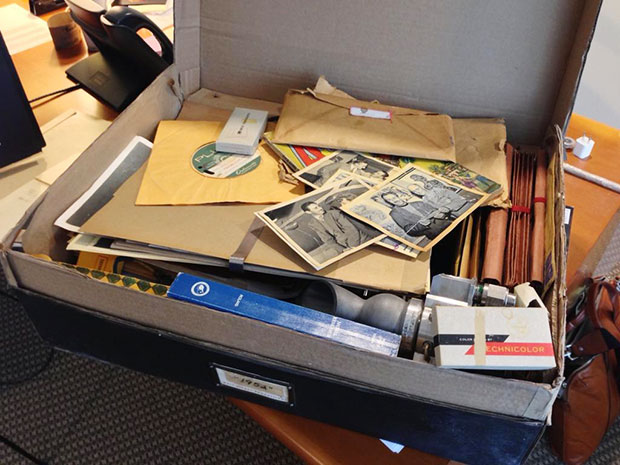 Yeah, I know. "What?" That's what see said, too. The image of a mysterious banker's box, which Bird tweeted (and yes, that phrasing is hilarious) on Wednesday night, is said to be what inspired the story of 1952 to begin with. Now that we've gotten a gander at what sparked the unknown premise, we can proceed in a communal confused head-tilting, and then set forth with our own theories about the top secret developing project. Here's what our staff came up with:
"This movie is produced by Disney, right? Well, the guy in those photos looks a lot like Walt Disney and Walt Disney Imagineering (then WED Enterprises), which began the development of Disneyland, was founded in 1952. Coincidence? I think not." – Kelsea Stahler
"A young boy whose father recently passed becomes obsessed with his professional belongings, which leads him to the discovery of a famous classic film. No, wait, that's Hugo. Okay, let's try again: A young boy with an absent father takes up a hobby as a filmmaker, which leads him down a dangerous path. No, wait, that's Super 8. A young robot rifles through a box of junk on Earth and becomes obsessed with an old Technicolor film. No, wait, that's Wall-E. Okay, I'll go for a real one: A 1970s-era man who frequently escapes the realness of the recession with old technicolor movies, travels back in time to post-WWII America, where he revolutionizes the movie industry with knowledge of modern film techniques. But that's a terrible plot line, so let me just go back to thinking about Hugo." – Kate Ward
"We delve into Walt Disney's secret past as a spy during World War II. The movie is framed with letters between Disney and a mysterious epistolary companion, whose name is never revealed. As the movie progresses, we become more and more suspicious of Disney's motives and allegiances, until, in a third act twist, we learn that Disney has been corresponding with unearthly beings. Don't worry about how aliens learned to use the United States Postal Service, that's irrelevant." – Abbey Stone
"Brad might be creating a movie about the Robertson Panel and the US government's story about the US Air Force investigating UFOs in the DC area in 1952. I bet Brad is going to investigate these series of events. The files in the box represent all the reports surrounding UFOs during this era, and the reports that CIA investigated." – Lindsey DiMattina
"Maybe Goofy was actually an alien/the mastermind behind the Disney empire. He was the only character who never really made sense. As they said in Stand by Me, Pluto was the dog — so what was Goofy? He wore a hat, and drove a car… an alien, that's what. Also, when I went to Disney world, he drew me a map with a crayon that was really, really helpful. He knows way too much." – Shaunna Murphy
"Envelope enthusiast Lee Avian has spent his life putting together a collection of some of the most time honored pieces of manila filing equipment, never bothering to open his beloved packages for fear of compromising their value. But when Lee happens upon one envelope containing pictures of two guys who seem to be genuinely enjoying one another's company, he realizes his entire life has been wasted on his solitary obsession. Perhaps it is time for Lee to find a friend." – Michael Arbeiter
"…an excuse to profit off of the fact that he just cleaned out the attic in his parents' house?" – Jean Bentley
"Maybe this case suggests the movie is about someone from Hollywood in 1952 who is recruited by the government to search for or study extraterrestrial life. Possibly an animator from the Walt Disney Studio who's assigned by the government to draw UFOs or aliens based on the descriptions of people who claim they've had a close encounter or been abducted. Of course, the artist ultimately discovers that these witnesses' claims are too similar to be coincidental. Given Bird's background in animation, it seems like a way for him to pay tribute to the art form. He could be making a statement about animation as a metaphor for plunging into the unknown and discovering new possibilities about ourselves and the universe around us." – Christian Blauvelt
"THIS is actually what was in the suitcase in Pulp Fiction." – Aly Semigran
What do you think the movie is about?
[Photo Credit: Twitter]
More:
Now that Brad Bird Is Out, Which Disney Vets Could Direct 'Star Wars Episode VII'?
'Upstream Color': Why the Geek World's Most Anticipated Film Deserves a Viewing (Or 8)
Benedict Cumberbatch Becomes Julian Assange (Not Draco Malfoy) As Biopic Launches — PIC