'Fury' Trailer Reminds Us That Brad Pitt Is at His Best in War Movies
Brad Pitt is being deployed once again. This time, in David Ayer's upcoming war drama Fury, which centers on a five-man tank crew making one last push against the Germans in the final weeks of World War II. But the team finds itself terribly outnumbered and behind enemy lines. Pitt's Sergeant Wardaddy (nope, that's not a joke, that's really his name) stands at the center of Fury. He's a hardened, weary-eyed patrol leader that has marched his tank squad across the numerous fronts of WWII. Now his team is preparing to strike at the heart of the Nazi war machine, but the long battle has chipped away at their souls. Through its grit and intensity, the Fury trailer serves foremost as a reminder that Pitt might very well be at his best when playing a war hero.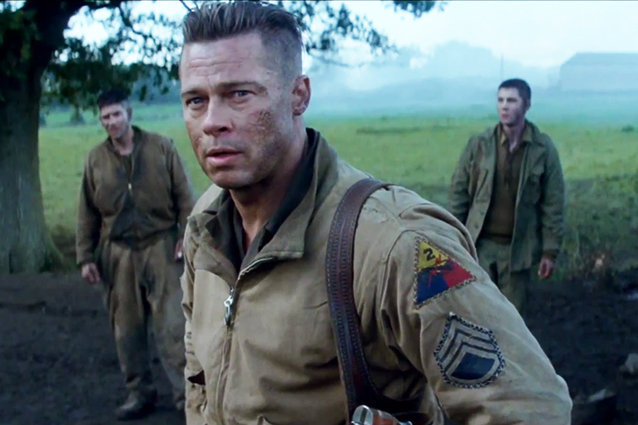 Sony Pictures
His rugged good looks, strong jaw, and steady voice perfectly mirror the type of brave men we imagine were really  stomping through the fields of Europe and Africa during the real WWII. Wardaddy seems eerily similar to Inglourious Basterds' Lt. Aldo Raine, a man who also fought Nazis behind enemy lines… though we don't think Wardaddy will be as scalp-happy as Lt. Raine. Both men had scars that told stories and experienced events during the war that fundamentally changed them.
Pitt is great at giving these soldiers layers. Wardaddy is a man putting on a brave face, even as his foundations are cracking at the joints. Looking as far back as 1994's Legends of the Fall, Pitt has always been great at giving soldier characters a sense of duty, honor, toughness, and vulnerability; all things that seem to be rolled into Pitt's portrayal of Wardaddy. We'll have to wait and see to be sure, but Fury looks like the latest in a line of good war performances from Brad Pitt.
Fury hits theaters November 14.