Brad Pitt's 'Killing Me Softly' May Have Died at Box Office, But His Career Has Life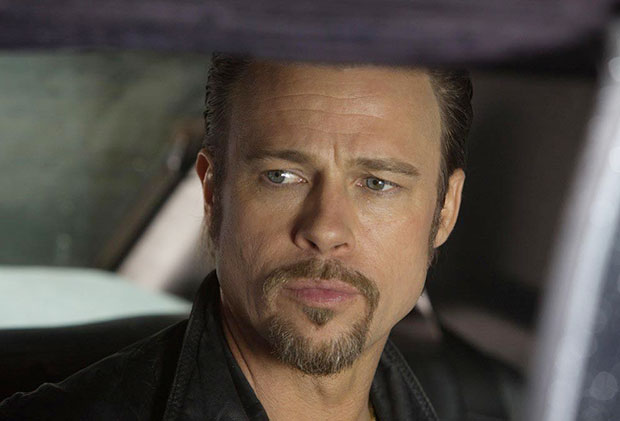 This weekend, Brad Pitt was resoundingly beaten by James Bond and the Twilight kids. How is it that the A-Lister's latest movie, Killing Them Softly, barely managed a number seven debut with a mere $6,812,900 in 2,424 theaters against films that have been in the marketplace for 2, 3 and 4 weeks? Even modest predictions guesstimated a debut of around $10 million and the film was even surpassed by Disney's animated Wreck-It Ralph which has been playing for five weeks!
What went wrong? Well for starters, a ghastly CinemaScore of "F" did not bolster the film's earning potential. A score that low usually translates to awful word-of-mouth and a short run in multiplexes. Or perhaps it's just that the holiday cheer delivered by Breaking Dawn – Part 2, Skyfall and Lincoln is simply overwhelming the marketplace and that an uber-violent R-rated crime drama (with a terrific cast including Ray Liotta and James Gandolfini) was not at the top of the average moviegoers list.
We can't fault the trailer for the film: the spot exuded cool in great measure, with Pitt's slicked back semi-pompadour hairdo and a mean looking hit man goatee bolstered by some truly great looking action sequences. On paper this looked like an indie-flavored, action movie fan's dream, but it translated to one of the actor's worst live action wide release debuts. In fact to find a comparably low debut we need to go back in time to the 90's to find anything comparable (and these films did not have the benefit of the much higher ticket of today). 1997's Seven Years in Tibet generated a $10.02 million opening, while 1992's Cool World saw a paltry $5.5 million debut. In fact this is Pitt's lowest wide release debut of the past decade — even 2003's animated flop Sinbad: Legend of the Seven Seas came in higher with a $6,874,477 debut in 2003 , opening in 3,086 locations. Even the widely panned The Mexican (with Killing Them Softly co-star James Gandolfini) managed a very respectable $20.1 million in its first weekend.
But lest we condemn Pitt for this box office transgression, it is clear that he is to be given lots of leeway for having given us amazing performances in some landmark films including 1995's Seven ($13.9M debut), 1999's Fight Club ($11M debut) with David Fincher, 2011's The Tree of Life ($372,920 in its limited release debut) with director Terrence Malick. His strong comedic turn in The Coen Brother's Burn After Reading even had an impressive gross, nearly $20 million, back in 2008.
Even in smaller roles Pitt made an indelible stamp such as in 1991's Thelma and Louise ($6.1M debut) and 1993's True Romance ($4M debut), not to mention his brilliant turn in Terry Gilliam's Twelve Monkeys with a $178,730 limited release debut. And who could forget the scenery chewing Lt. Aldo Raine in Quentin Tarantino's brilliant Inglourious Basterds, a critical and audience favorite opening with an impressive $38 million.; His most recent live action movie, Moneyball, opened with $19.5 million and was a critical and awards season darling with Pitt's portrayal of Billy Beane, singled out as one of the best of the year and earning him a much deserved Best Actor Oscar nomination. Pitt's most recent movie release prior to Killing Them Softly was last year's November release of the animated Happy Feet Two and even that paid off more handsomely for the actor with a $21.2 million first weekend in theaters.
So are we still rooting for Brad? Absolutely! And we cannot wait for next summer's World War Z – which are sure will be a hit!
[Photo Credit: The Weinstein Company]
More:
Brad Pitt Can't Stop 'Twilight' Fever as 'Breaking Dawn' Takes the Box Office
Brad Pitt Hasn't Seen Any Parodies of His Chanel Ad… Yeah, Sure.
'World War Z' Trailer: Worth the Long Wait? — VIDEO


Brad Pitt's On-Screen Style Evolution — PICS