Bradley Cooper Is Not Lance Armstrong (and Other Lies My J.J. Abrams Told Me)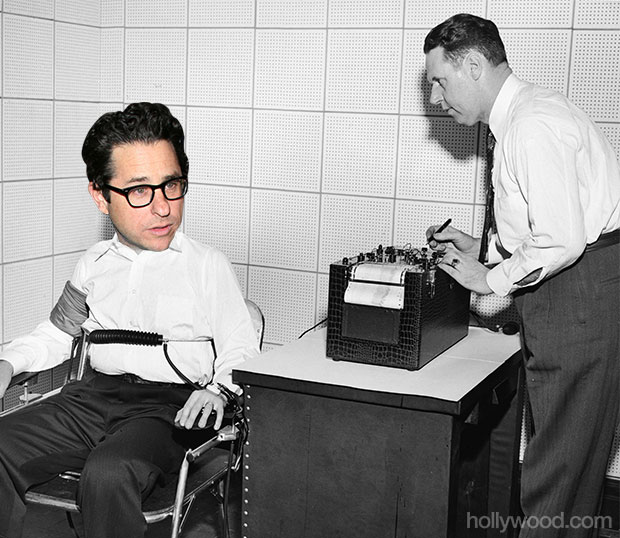 We're accustomed to being misled by our politicians, by our bosses, by our parents and significant others. Lawyers? Sure. Weathermen? You bet. Bus drivers? Don't trust 'em! But what kind of apex of human degradation have we reached when the dispense of deceit hits us from a source like our Hollywood icons? While this story might well involve the name of Lance Armstrong, it is not he whose honesty we are calling into question. Instead, we point the flared lens of justice at J.J. Abrams, whose recent statements tying Bradley Cooper to Bad Robot's developing biopic about the disgraced cyclist have been renounced by Cooper himself.
Following reports by E! Online that Abrams had been discussing the prospect of Cooper starring as Armstrong in the announced project, the actor told Access Hollywood that rumors of his involvement were entirely false, saying of the very notion, "Oh my God, that's so nuts!" And that's a proclamation you can count on.
Cooper adds, "I didn't even know that J.J. has the rights, I had no idea," sparking curiosity  in what drove Abrams to deliver his suggestion of Cooper's casting (and mention of their email correspondence) in the first place. Of course, we'd be wise to bear in mind the plausibility of either party's words being distorted by the media — such a phenomenon is bound to happen in high status news stories like this one, thus rendering neither Abrams nor Cooper guilty of any mistruths. We'd be wise to bear this in mind… but we'll leave the wisdom to Yoda.
For, not too long ago, Abrams hit us with another twist of tongue: his rejection of the possibility that he might direct the forthcoming Star Wars: Episode VII movie. As we now know, Abrams' dismissal of the role had about as much veracity as Obi Wan telling Luke that his father was dead (I know, he was being sage and metaphorical, but it was really kind of a douchey thing to do). And while many of us were thrilled with the prospect of an Abrams Star Wars movie, it'll still be a bit of a struggle before we can learn to trust the bespectacled auteur again.
Especially since this is hardly the first time Abrams has tried to pull the wool over our eyes. Lost fans will recall with vigorous eye rolling the time Abrams took to the Paley Center with the show's fellow creative forces, outright debunking the description of the program's island as purgatory:
But as we all know (and many lament), that theory was moreover proven true in the series finale.
And so, we're left with an Abrams whose words we're meant to take with a grain of salt. Perhaps this means optimism for those hoping for a post-millennial Khan to take the reigns of villainy in the director's upcoming Star Trek Into Darkness. Sure, production has denied the character's inclusion of the story, but that no longer serves as "proof" one way or the other.
Maybe Abrams is just trying to keep the mystery flowing not only within the realities of his onscreen spectacles, but throughout the waves of our own space and time. Maybe he has taken too many lessons from the likes of his own character, Lost's Ben Linus, in the malleability of truth. Maybe he's just forgetful. But whatever the reasoning, consider this a warning about the handling of future Abrams statements.
And if you're reading this, Cooper, consider giving Armstrong a go. Abrams might be hard to trust, but he still makes one hell of a movie.
[Photo Illustration by Hollywood.com; Photo Credits: Adriana M. Barraza/WENN; Pictorial Parade/Getty Images]
More:
Bradley Cooper Wants To Play Lance Armstrong In Biopic: Why He's The Perfect Choice
'Star Wars' Is 'Lost'! 10 Clips Linking J.J. Abrams' Past and Future — VIDEOS
What J.J. Abrams' 'Star Wars' Will Look Like: Everyone, Meet Leilicity — VIDEO

J. J. Abrams and 'Star Wars': Has the Lightsaber Been Passed to the Right Director?