Bradley Cooper, Jessica Chastain Beat The S**t Out of Zach Galifianakis in 'Between Two Ferns' Oscar Edition: Part 2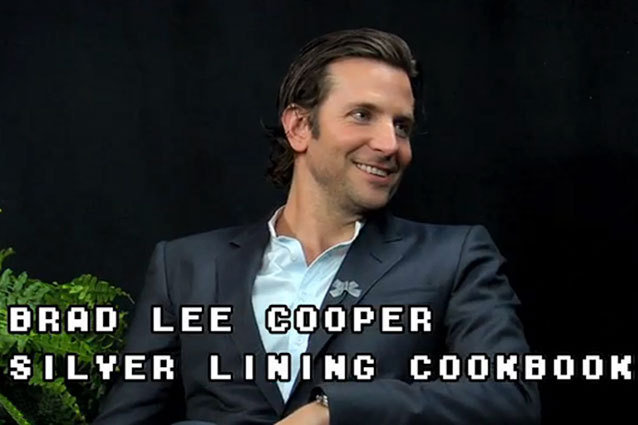 Monday, Funny or Die graced us with the first installation of Zach Galifianakis' Oscar-themed "Between Two Ferns", complete with wonderfully uncomfortable interviews with some of this year's Academy Award nominees such as Jennifer Lawrence, Christoph Waltz, and Amy Adams. Now we get part two, with Zero Dark Thirty's Jessica Chastain, Silver Linings Playbook's Bradley Cooper, and Lincoln's Sally Field and "Daniel Day-Lewis" getting in on the hilarious absurdity.
RELATED: Jennifer Lawrence, Anne Hathaway, Christoph Waltz Go 'Between Two Ferns'
While part two of the segment relied heavily on visual gags (all of the guests microphones were taped to their outfits, the name "Jessica Cheststain", putting Field in Linkin Park and "Brad Lee" Cooper in Silver Lining Cookbook) rather than part one's terribly awkward interviews (though, Emmanuel Lewis may beg to differ) it's still damn funny and all the participants are damn good sports. Well, except for Galifianakis' Hangover co-star Cooper, who winds up getting in a gut-busting verbal ("I'm so sick of your f**king ferns!") and physical altercation with him. Bonus points to Chastain for getting in one last shot at the motherf**ker with the ferns. 
RELATED: Bradley Cooper Campaigns To Play Lance Armstrong 
Watch the glorious part two of Galfianakis' "Between Two Ferns" Oscar edition below and find out what Field thinks of pennies, how Cooper rang in Black History Month, and why Chastain fought hard to keep the torture scenes in her film: 
RELATED: 'Zero Dark Thirty' Star Jessica Chastain's Dedication To Her Work 
[Photo credit: Funny or Die]