Brand New 'Pacific Rim' Full-Length Trailer: Time to Cancel That Apocalypse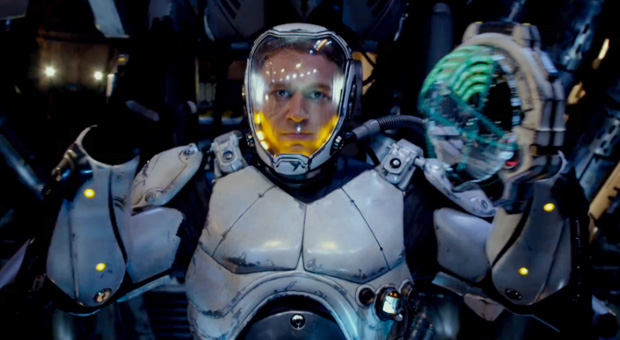 We already knew that Pacific Rim had a badass, Comic Con lover's wet dream plot (robots vs monsters!). We also knew that it boasted one of the most creative directors in town (Guillermo Del Toro) as well as a cast that would make any TV lover swoon (Jax and Clay from Sons of Anarchy, Stringer Bell from The Wire, Charlie from It's Always Sunny). But now — due to the just-released trailer — we also know that it will feature some of the most stunning action sequences ever seen on the big screen.
"We always thought alien life would come from the stars, but it came from deep beneath the sea," narrates star Charlie Hunnam (Sons of Anarchy), as giant sea-aliens arise to raise hell on bridges and office buildings worldwide. We don't get to see too much of the nasty big green men, but the preview offers a solid look at humanity's last hope — the giant, man(and woman)-controlled robots. And they're pretty awesome. "Today we are canceling the apocalypse!" shouts Idris Elba (Prometheus, The Wire), as he and Hunnam put on their modern-day Stormtrooper robot gear. Idris, we'd follow you to battle in a heartbeat.  
Pacific Rim is set to hit theaters in 3-D and IMAX 3D on July 12, 2013. In the meantime, check out the trailer below!
Follow Shaunna on Twitter @HWShaunna
[PHOTO CREDIT: Warner Bros.]
MORE:
Even More Monsters Vs. Robots: 'Pacific Rim 2' Already in the Works
'Pacific Rim' Viral Clip Reveals First Glimpse of Epic Monster Destruction — VIDEO
'Pacific Rim' Wows With Insane Monster vs. Robot Footage
From Our Partners:

'The Hobbit' Cast: A Who's Who New Character Guide (Moviefone)